Our family routine generally includes a pretty boring breakfast. My husband and son eat oatmeal almost daily and my daughter and I like to have yogurt. But, that doesn't mean we don't like to splurge, usually at brunch. In fact, with Easter coming up this Vegetarian Egg Potato and Sausage Casserole would be a great idea! MorningStar Farms Sausage Patties are not only vegetarian but they are so tasty. We love them and they are a big indulgence for us. They taste great with pancakes, inside breakfast burritos and in this Egg and Potato Casserole.
What I love about this egg and potato casserole is how easy it is. I mean, with two kids, easy is always better for our busy family. Besides being simple, it is also oh so tasty. Since there are only four in our family I don't make a huge portion. Using an 8 inch square dish this egg and potato casserole easily feeds our entire family of four.
A simple and tasty breakfast or brunch recipe featuring Morningstar Farms Sausage Patties.
Ingredients
2 Cups of Frozen Hashbrown Potatoes
1 Cup of Shredded Cheddar Cheese
4 MorningStar Farms Sausage Patties, roughly chopped
8 Eggs, beaten
2 T Garlic powder
Salt, to taste
Pepper, to taste
Instructions
Pre-heat oven to 350 degrees
Spray or grease an 8×8 baking dish
Add potatoes, cheese, and sausage
Add 1 T garlic powder and salt and pepper to top of mixture
Mix remaining garlic powder, salt and pepper to eggs
Pour beaten eggs over the mixture
Bake at 350 degrees for 45 minutes or until eggs are cooked through
In just over an hour you have a simple and tasty recipe. My daughter likes to top it with a dollop of sour cream. I love adding salsa to this. Serve with our without toast and jam. I am thinking Easter brunch on this Egg, Potato and Sausage Casserole…
What is your favorite meatless indulgence?

Find your fresh take on eating well. Browse hundreds of meat-free recipes at MorningStarFarms.com.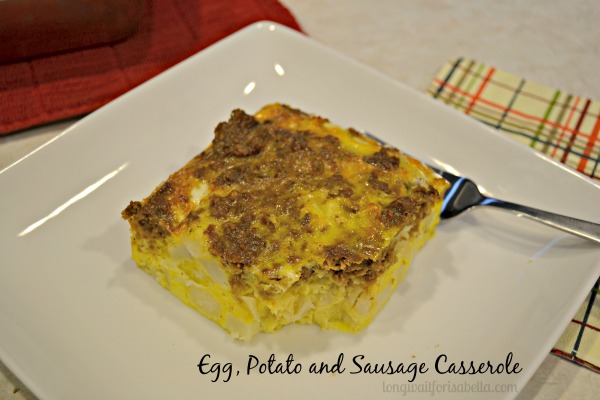 Disclosure: Compensation was provided by Kellogg's MorningStar via Glam Media. The opinions expressed herein are those of the author and are not indicative of the opinions or positions of Kellogg's MorningStar.