Do your kids love pizza? My kids do – especially the 1 year old Little Man. To be honest, my husband and I both are pretty big pizza fans too. Because of our lifestyle on the road we often eat a large breakfast and lunch and a smaller dinner. So our pizza meal is often at the lunch hour.
When we are on the road I can't pack up my kitchen in the suitcases. I rely on what the extended stay hotels or corporate housing provides. So our meals are basic and pretty easy to prepare. I like that, actually. Any given day you will find at least one (if not more) frozen packages of MorningStar Farms products in the freezer in our hotel room.

This weekend, I decided to make a fun lunch meal for the family: Vegetarian Cheeseburger Pizza Rolls. I saw a version of this recipe a few years ago but I like to make mine a little more simply. A great Meatless Monday dish for your family and it pairs nicely with a Cesar salad. (Can you believe that my 1 year old loves salad?)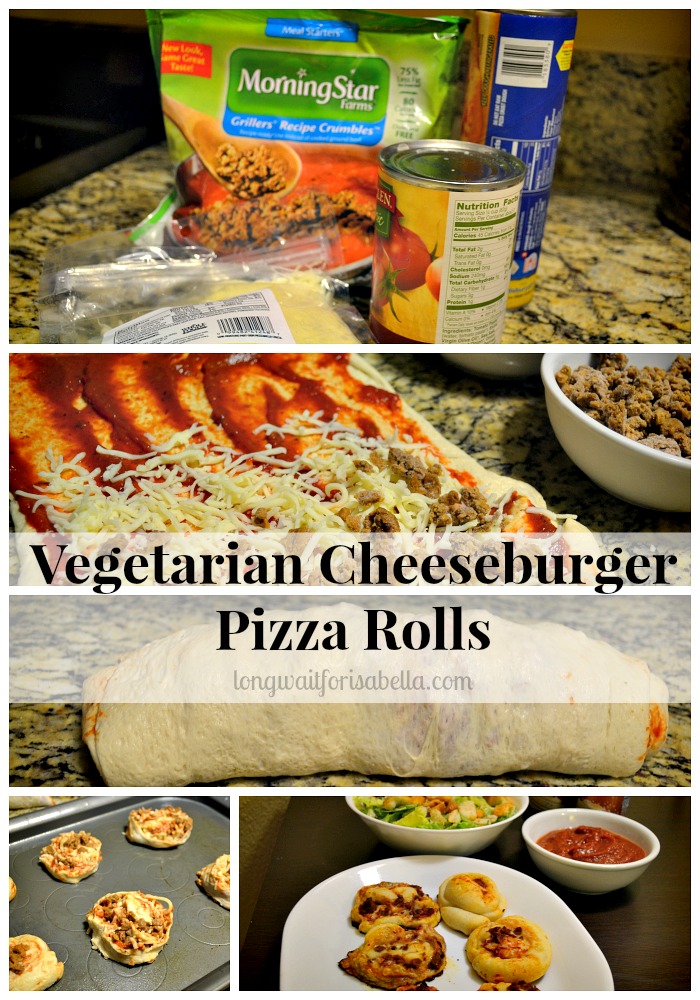 The ingredients: MorningStar Farms Grillers Recipe Crumbles, refrigerated pizza dough, pizza sauce and cheese. Four ingredients! (My kind of recipe, people!).
Instructions: I rolled out the pizza dough on my counter top, lightly covered it in sauce, cheese and crumbles (don't overfill!). I then cut the roll into 1 inch slices and baked in a 400-450 degree oven for 10 minutes. Serve 'em up with some leftover pizza sauce for a tasty, simple, and fun meatless dish!
I was able to make sixteen rolls from this one refrigerated pizza dough. Leftovers are even tastier the next day in my opinion.
MorningStar Farms has many great Meatless Monday recipe ideas for your family to enjoy. Find your fresh take on eating well. Browse hundreds of meat-free recipes at MorningStarFarms.com including:
Cheese Stuffed Pasta Shells

Good Morning Breakfast Casserole (a huge favorite in our house!)

Barley Vegetable Soup

Moroccan Veggie Soup

Buffalo Chik Wrap
What is your favorite meatless recipe?
Disclosure: Compensation was provided by Kellogg's MorningStar via Glam Media. The opinions expressed herein are those of the author and are not indicative of the opinions or positions of Kellogg's MorningStar.