With Valentine's Day here, and many thinking about love and marriage, I have a great book to share with you. An awesome book in fact, by Dr. Gary Chapman, THE MARRIAGE YOU'VE ALWAYS WANTED. Do you want to experience "True Oneness" in your marriage? I know I do. Get practical advice from Dr. Chapman for your relationship.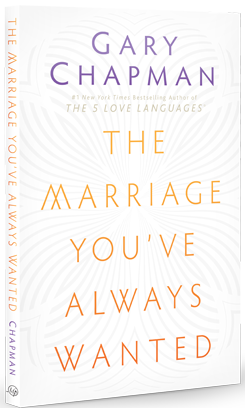 About The Marriage You've Always Wanted
You can picture the perfect marriage in your mind, but re-creating it in reality doesn't come easy. Trusted counselor and relationship expert Dr. Gary Chapman reasons that the most sought-after ingredient in any marriage is true oneness. In The Marriage You've Always Wanted, he presents expert wisdom and common sense methods to establishing that true unity on emotional and practical levels. Discover the wit and insight that makes his worldwide presentations and marriage conferences so popular. Are you trying to change your spouse? Do you know what it means to really love someone? Do you feel ignored or even alone in your effort to improve your marriage? Dr. Chapman has answers and action steps on topics from expressing your emotions to managing your money, all in a format that will have you and your spouse talking and learning with every page.
You can also get a free PDF printable study guide for this book!
ABOUT THE AUTHOR: DR. GARY CHAPMAN
As anyone who has attended one of his marriage conferences knows, Dr. Gary Chapman's expertise in marriage begins with the success and failures he and his wife Karolyn have experienced in their marriage for more than 45 years. He is just the man to turn to for help on improving or healing our most important relationships. His own life experiences, plus over thirty-five years of pastoring and marriage counseling, led him to publish his first book in the Love Language series, The Five Love Languages: How to Express Heartfelt Commitment to Your Mate. Many of the millions of readers credit this continual New York Times bestseller with saving their marriages by showing them simple and practical ways to communicate love.
Dr. Chapman holds BA and MA degrees in anthropology from Wheaton College and Wake Forest University, respectively, MRE and PhD degrees from Southwestern Baptist Theological Seminary, and has completed postgraduate work at the University of North Carolina and Duke University.
Connect with Dr. Gary Chapman
Purchase The Marriage You've Always Wanted
My amazing husband actually started reading this book first. I am next in line to read it. He is about half-way through and really likes it. We love reading marriage enrichment books together. Relationships are a life long process and we are always learning better ways to improve our marriage.
Win The Marriage You've Always Wanted
One lucky Long Wait For Isabella reader will win their own copy of The Marriage You've Always Wanted. Simply enter the Rafflecopter form below for your chance to win. Open to US and CAN residents 18+.
Disclosure: I was sent the above book for review. All opinions are mine. If you have won the same prize on another blog, you are not eligible to win it again. Winner is subject to eligibility verification.