This is a sponsored campaign with Mums the Word Network and PickURGift. All opinions are my own.
At Christmas time I told you all about a great new "reverse wishlist" site called pickURgift.com. I was able to easily make a wish list of products to send a family member for Christmas. They could look at that list and decide which gift they wanted most. I think this is a pretty amazing idea. It really does make gift giving easy.
So I have decided to make a reverse wishlist for my husband for Valentine's Day. After 14 years of marriage, I'd love to let him choose the exact gift he wants this Valentine's Day.
Six Valentines Day Gift Ideas for Him
Short Sleeve Shirt (that you can dress up or down)

Tie

Cologne

Pajamas

Watch (how about a Smart Watch?)

Noise Cancelling Headphones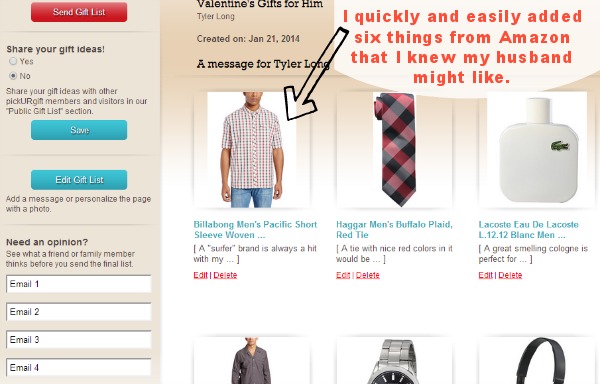 What does your husband (or significant other) want this Valentine's Day?
About pick UR gift
pick UR gift is a unique website that allows you as the gift giver more control. By using what they call, the "reverse wishlist", you can offer many gift choices. The person you are giving the gift to gets to pick the one they want.
You can create gift pages by adding the UR button to your bookmarks bar. This is a bookmarklet. In Chrome, it was simple. After I signed up for an account, I simply dragged the button up to my bookmarks bar. That was it. So easy! Now, when I am looking at websites for gift ideas, I click the UR button and can add great gift ideas to my Gift Page.
Connect with pick UR gift
Win a $200 Amazon Gift Card
How does a $200 Amazon gift card sound? I think it sounds awesome! I could easily find a gift for my husband at Amazon if I had $200 gift card. For your chance to win, create an account at pick UR gift and add 4 items to a wishlist. This contest is open WW and ends 2/7 at 12 am EST.