I have learned a lot about myself this week by participating in the online Bible study for Made to Crave. These were things that I already knew, but was not facing. So by reading the first few chapters of this book (with 40K other participants!) I had a bit of a wake up call.
Do you live in a vicious cycle like me? I live in at least two vicious cycles:
I crave what I eat then I eat what we crave.

I vow to do better, make excuses throughout the day, then promise to do better again tomorrow.
I learned that I, in my own strength, am POWERLESS.
This week, I received a box full of Valentine's candy. Yes, the week I am starting this online Bible study, I got a box full of candy for a Valentine's blog post. That was a struggle. Not only that, it was National Peanut Butter Day this last week too. So I failed one day this week, BIG TIME.
But, you know what? I did have a great day too. A day where I relied on God instead of food. When I wanted that candy, I prayed. Then, I went to bed. Do your cravings really hit you after that long day with the kids? That's when mine are raging!
God made us to crave. But He wants us to crave Him. I once heard a preacher say that we have a God shaped hole in our life and only He can fill it. The problem is we often try to fill it with everything else but God. With me, I try to use food.
After stressful days with two young kids, traveling in places where we don't have a physical support system, I turn to food. Food has become my:
Stress Reliever

Comfort

Joy
When I should be turning to God to help me relieve my stress, to comfort me, and fill me with joy – I am turning to food.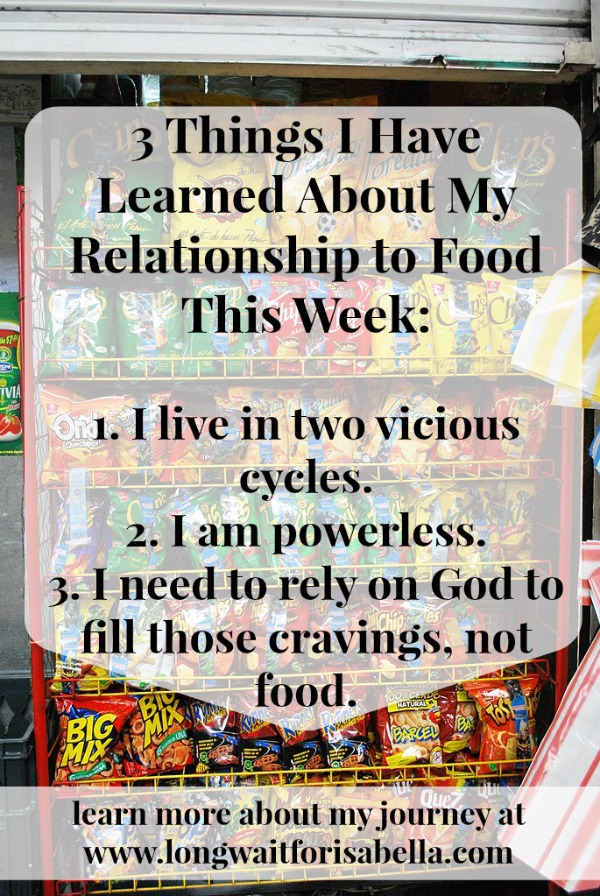 So I am using two things as a motivator for me to stop the unhealthy cycle. First, I am praying. Prayer will help connect me closer to God and it will give me something else to do when I want to eat. I will start a new habit. When I want that chocolate, chips, cheese, or cookies I am praying. To be honest, I am not cutting out anything. I will eat those things in moderation, occasionally. But the daily snacking on unhealthy foods has got to go. My next motivator will be children. I want them to have a healthy example to follow. I don't want to pass along my bad habits to them.
So as I continue this journey, will you pray for me?
I sure could use it.
My soul yearns, even faints, for the courts of the Lord, my heart and my flesh cry out for the Living God.
Psalm 84:2