Labeled by Idleman himself as a "God-help" book rather than a "self- help" book, AHA unveils how three key elements can deepen our faith and change our lives forever. I was excited to get this book because honestly, I think I need more AHA moments in my own spiritual life. But, according to Idelman, many of these moments come out of difficult times in our life. Man, oh man, I don't like difficult times. Yet, it is true, the times when I drew closest to the Lord were the hard times in my life.
From Idelman's Facebook page: When life is hard we either draw closer to God or push him away. How have difficult circumstances helped you grow spiritually?
About AHA
Author of the breakout bestseller Not a Fan, pastor and author Kyle Idleman reveals three vital ingredients—Awakening, Honesty, Action—that combine for lasting change. We've all had "aha!" moments in our lives, a sudden revelation surprising us with insight. With everyday examples and trademark testimonies, Idleman draws on the parables of Jesus to reveal how three key elements can produce the same kind of "aha!" in our spiritual lives:
Awakening to the reality of who we are in Jesus Christ
Renewed Honesty to see our need for a Savior
Inspired to Action, we obey God and follow Christ's example
As we see in the transformation of the prodigal son, the result is a life-changing, destiny-altering collision—an AHA moment that leads us home to our loving Father.
"It may sound harsh to say, but the number one contributor to spiritual growth is not sermons, books or small groups; the number one contributor to spiritual growth is difficult circumstances" admits Idleman. "AHA comes out of the suffering, setbacks, and challenges of life. Many People could point to those moments as their greatest moments of spiritual awakening."
About the Author
Kyle Idleman is the Teaching Pastor at Southeast Christian Church in Louisville, Kentucky, the fourth-largest church in America. Author of the award-winning and bestselling book, Not a Fan, he regularly speaks at conferences and events around the world. He and his wife DesiRae have four children. Kyle Idleman, author and pastor of Southeast Christian Church in Louisville, Kentucky, the fourth largest church in America. Visit his website at http://kyleidleman.com/.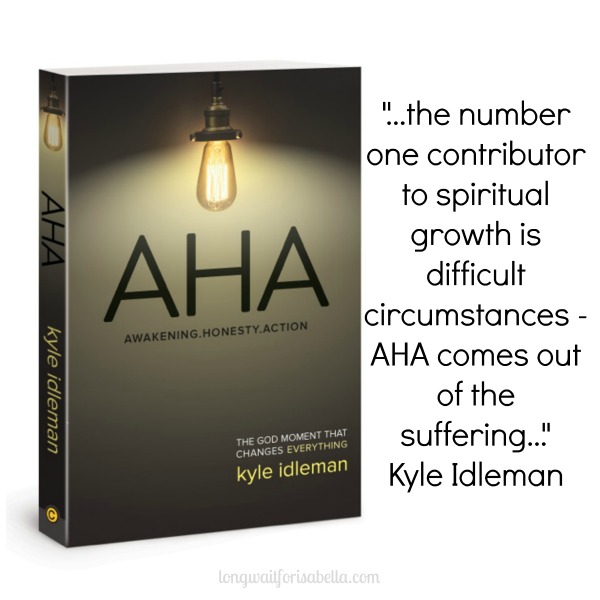 Could you use an AHA moment in your life too? You are really going to love this book. In fact, one lucky Long Wait For Isabella reader will win their own copy of AHA! Enter the Rafflecopter form below for your chance to win. Open to US and CAN residents 18+.
This is a sponsored post. If you have won the same prize on another blog, you are not eligible to win it again. Winner is subject to eligibility verification.