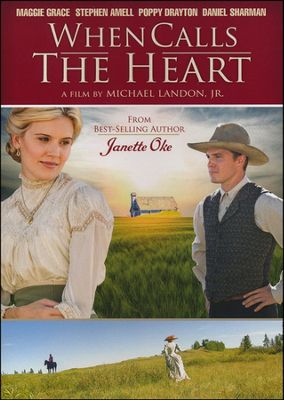 We have discussed my love of Janette Oke many times before. I love the books and I love the Hallmark movies made from the books. I have one more exciting Janette Oke addition to share with you today. This will be a new television series based on Janette Oke's beloved Canadian West series of novels, set in 1910. Drama, history, adventure, romance — and Mounties!
About When Calls The Heart the Movie
When Calls The Heart is the movie that began one of the first television series inspired by a Christian author and directed by Michael Landon Jr.. It is based on the best-selling books by Janette Oke, and tells the story of a young high society teacher receiving her first classroom post in a prairie town in the Western Frontier.
Determined to prove to her family that she is brave enough to live on her own, Elizabeth struggles with her own fears and doubts until she discovers her late Aunt's diary. Her aunt, also named Elizabeth, had set off on a similar adventure as a teacher into the frontier, where she struggled with prairie life and eventually met and fell in love with a Royal Canadian Mountie.
Reading her aunt's words, the young Elizabeth decides to put her future in God's hands and embark on her own adventure where she uses the diary as her guide as well as Edward, another Mountie, sworn to see her arrive.
When Calls the Heart the movie debuted on the Hallmark Channel to more than 3.2 million viewers, making it the No. 1 movie of the week on ad-supported cable. Distributed by Word Entertainment, The DVD became available to purchase in Christian retail November 19th, 2013.
Synopsis
When Calls the Heart is the story of Elizabeth Thatcher, a cultured young school teacher in 1910 who, through the discovery of her aunt's secret diary, finds the courage to leave her big city home to accept a teaching position in a frontier coal mining town. And in the process, she also finds the potential for love with a handsome Royal Canadian Mountie.
About Word Entertainment:
A leader in the music industry for over 60 years, Word Entertainment, a Warner/Curb company, is a unique, comprehensive entertainment company comprised of multi-faceted artist service departments including publishing, merchandising, booking, and online initiatives. Word Entertainment represents some of the top names and brands in music, and is home to 25 Entertainment, Word Distribution, Word Print, Word Films, Word Music Publishing and Word Label Group's Word Records, Word Worship and Fervent Records.
Connect with When Calls The Heart
Buy When Calls The Heart
When Calls The Heart is available for purchase at Christianbook.com for $14.99 and would make a great stocking stuffer!
This is a sponsored post.