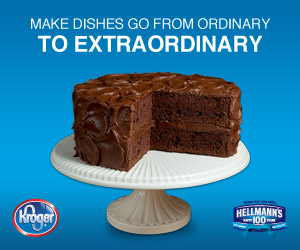 We have friends at church who grew up in Oahu and moved to the mainland in the 80s. Our church potlucks, dinners, and social activities have great food at them. Because our friends can cook! One secret ingredient that I know she uses in making some baked goods is mayonnaise. In fact, mayonnaise is added to many dishes and I have come to appreciate this condiment in more ways than on a sandwich.
Looking to take your holiday desserts from ordinary to extraordinary? Sometimes the ingredient that makes the most difference is the one that you least expect. It's time to reveal what will make your Chocolate Cake more desirable than ever…Hellmann's® Real Mayonnaise.
This holiday season at your local Kroger you will receive 50 cents off Hellmann's® Real Mayonnaise so you too will have the secret ingredient for baking the perfect Chocolate Cake!
Share the Secret
This delicious dessert takes less than an hour to create. It will have all your family and friends asking: What's the secret ingredient?
Super Moist Chocolate Cake
INGREDIENTS
1 box (16.5 oz.) chocolate cake mix

1 cup Hellmann's® Real Mayonnaise

1 cup water

3 eggs

1 tsp. ground cinnamon (optional)
DIRECTIONS
Preheat oven to 350°. Grease and lightly flour two 9-inch round cake pans; set aside.

Beat cake mix, Hellmann's® Real Mayonnaise, water, eggs and cinnamon for 30 seconds in large bowl with electric mixer on low speed. Beat on medium speed, scraping sides occasionally, 2 minutes. Pour batter into prepared pans.

Bake 30 minutes or until toothpick inserted in centers comes out clean. Cool on wire rack 10 minutes. Remove cakes from pans and cool completely. Sprinkle, if desired, with confectioners sugar or fill and frost.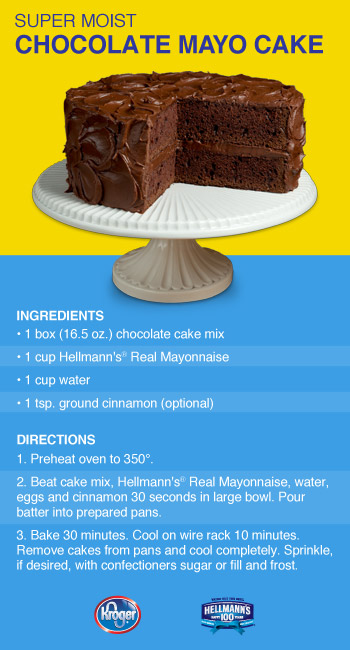 Win $100 Kroger Gift Card
You can win a $100 Kroger gift card from Hellman's! Enter the Rafflecopter form below for your chance to win! Open to US residents 18+.