Lost and Found should serve as an example to all children's filmmakers that kids don't need a fast-paced cartoon or disrespectful characters to become engaged in a story. The pace of the 30-minute production is perfect, as is everything else about it.
– Parents Choice (Gold Award Winner)
BASED ON THE BEST-SELLING BOOK FROM CELEBRATED AUTHOR/ILLUSTRATOR OLIVER JEFFERS COMES A MAGICAL TALE OF FRIENDSHIP AND ADVENTURE, WINNER OF MORE THAN 60 INTERNATIONAL AWARDS!
This Perfect Holiday Gift is Available on DVD for a $9.98 SRP!
About LOST AND FOUND
Families will embark on an imagination-inspiring journey alongside a pair of unlikely companions when LOST AND FOUND, the deeply-heartwarming and critically-acclaimed animated film, arrived in the U.S. for the first time ever on DVD and Digital platforms on October 15, 2013 from Entertainment One and is available now to place on every child's Holiday Gift List! A winner of more than 60 international awards, as well as a coveted Parents Choice Gold Award, LOST AND FOUND will also air as a holiday special on Nick Jr.®
Based on the internationally best-selling children's book by award-winning author, Oliver Jeffers, whose newest book has just captured the #1 spot on the New York Times Best Sellers list, the standout production was adapted and directed by Philip Hunt and features endearing narration by Academy Award®-winner Jim Broadbent (Harry Potter, Gangs of New York, Moulin Rouge), stunning CGI animation from Studio AKA, and a charming musical score by esteemed composer Max Richter (Shutter Island). LOST AND FOUND brilliantly transports viewers from the 2D pages of the storybook to a rich and immersive world that will have both young and old alike mesmerized and brought to tears. With more than five dozen international awards under its cap, the remarkable film is sure to find its way into audiences' hearts with its universal and timeless message of the true value of friendship.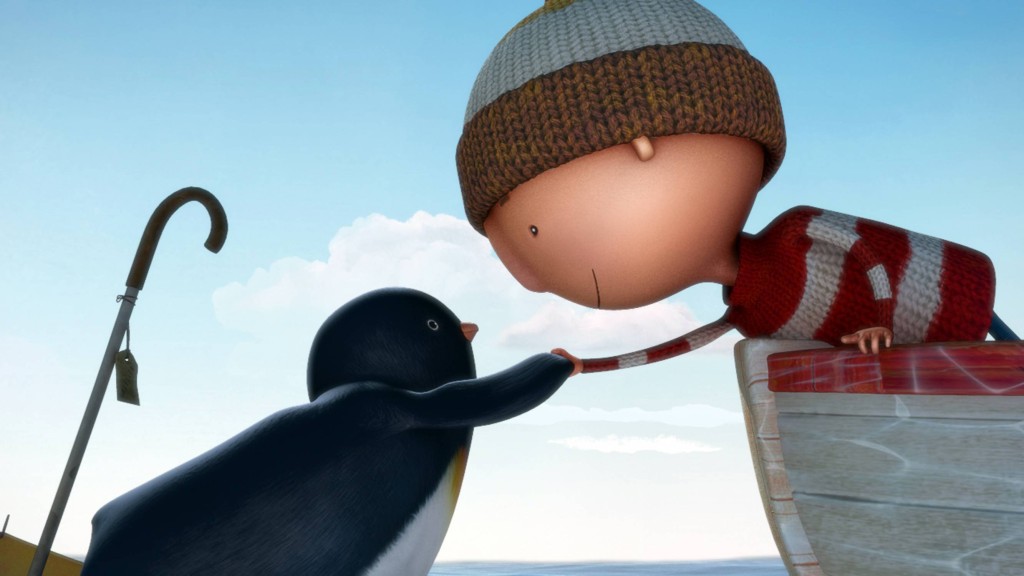 Originally inspired by the real-life story of a little boy in Belfast, Ireland, who somehow managed to sneak a penguin out of the zoo during a class trip and all the way home to his bathtub before anyone noticed, LOST AND FOUND tells the unforgettable story of a little boy who one day finds a penguin on his doorstep. Assuming that the unexpected visitor must have lost his way, the thoughtful and determined boy takes up the noble task of bringing the penguin back home – even if it means rowing all the way to the South Pole! But when the pair finally arrive at their destination, the boy soon discovers that maybe the penguin wasn't really lost after all. Maybe he was just lonely… And maybe he wasn't the only one.
Gentle and uplifting in equal measure, LOST AND FOUND provides families with a welcome alternative to today's more frenetic on-screen entertainment options for kids. In addition to the movie, the DVD contains a special "Making of" featurette, showcasing interviews with Jeffers, as well as key members of the production and creative teams. The segment offers viewers a fascinating behind-the-scenes look at the various elements that seamlessly come together to bring this dynamic film to memorable life.
You have to watch the trailer:
Are you convinced yet that this would make a fabulous stocking stuffer this year? Really, a quality children's animated film based on a best selling book –  How can you not want to get this for your kids? Did you see how many awards this has gotten already? I am excited to see my Princess open this and watch it with her after Christmas. A story about a boy and the penguin he "finds" embarking on a journey and realizing friendship can occur in the unlikeliest of places – that is the kind of quality programming I like to promote!
Buy Lost and Found DVD
Lost and Found can be purchased at Walmart.com and Amazon.com
Win Lost and Found DVD
Three (3) lucky Long Wait For Isabella readers will win their own copy of Lost and Found on DVD! Enter the Rafflecopter form below for your chance to win. Open to US and CAN residents 18+.
This is a sponsored post.