Do you like Lifetime holiday movies? I can sit and watch a fun, entertaining, heartwarming, holiday  movie on Lifetime any day. That is why I am glad that Lifetime has released the Lifetime Holiday Movie 4 Film Collection.
About Lifetime Holiday Movie 4-Film Collection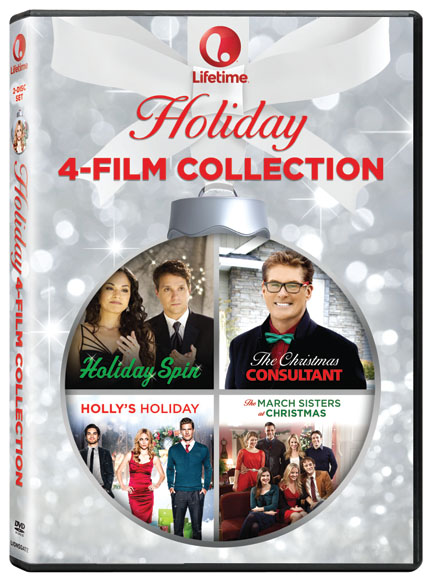 This delightful Christmas package of Lifetime® Original Movies has everything you could ever wish for! David Hasselhoff brings in the merry as a sought-after consultant hired by a workaholic mother (Caroline Rhea) to get her family through the holidays in "The Chistmas Consultant"; take a "Holiday Spin" with Ralph Macchio in a heartwarming story of a former dance champion and his estranged son; warm up to "The March Sisters at Christmas", a contemporary take on the timeless novel "Little Women" and "Holly's Holiday" in which Claire Coffee plays an advertising executive who's strangely attracted to a mannequin in a holiday window. After she's knocked unconscious by a falling icicle, he comes to life as the man of her dreams – until she learns that his personality is still plastic!
Connect With Lifetime
There are four holiday movies in this collection at a great price. I found The Christmas Consultant a little cheesy, but cheesy Christmas movies are okay with me. I do like that The March Sisters at Christmas is a rendition of Little Women – a fun modern twist. Though these are not "traditional" or "classic" holiday movies they still end with a focus on how important family is at Christmas time. If you are offended by some crass humor or a bit of language then this collection might not be for you.
Buy Lifetime Holiday Collection
This 4 film collection is available for purchase at the Lifetime website and on Amazon.
For a full list of Lifetime holiday movie and a schedule of when movies are playing on Lifetime visit their website.
Win Lifetime Holiday Movie 4 Film Collection
One lucky Long Wait For Isabella reader will win their own copy of this 4 film collection on DVD. Enter the Rafflecopter form below for your chance to win. Open to US residents 18+.
Good Luck!
This is a sponsored post.