This post is brought to you by Züpers.
Züpers has officially launched its first Kickstarter campaign!
What is Züpers, you ask?
Based on Queen Anne in Seattle, Züpers are leggings that eliminate knee scrapes and keep girls safe and stylish by incorporating the use of built-in knee pads. The entire line is made in the USA!
Züpers Kickstarter Campaign
Züpers, the popular clothing brand of everyday activewear for young girls, has set a goal of $5,000 for their first-ever Kickstarter campaign. The Seattle-based company created by Wendy Feller was launched back in 2010 with the express goal of providing girls with durable leggings that are functional and built to last both on and off the playground. The Kickstarter campaign will help fund a brand-new collection of Züpers leggings that are made in the USA and designed for active lifestyles. The signature long leggings will be available for a special price of $25 during the Kickstarter campaign as a special incentive for backers.
About Wendy Feller
Wendy, a mom and clothing designer whose label Wendy Feller Knitwear once sold to major department stores such as Nordstrom, noticed that her five year old daughter was consistently ripping through her leggings and scraping her knees while playing outdoors. This inspired the innovative idea to design leggings using durable fabric and built-in knee pads. With a successful background as a business owner and designer, Wendy had both the technical experience and insight to bring Züpers to life. After experimenting with various materials to get the functionality and fit right, she launched the debut collection.
Three years later, Züpers continues to offer girls a stylish way to stay active while giving moms a quality product that is built to last. The Kickstarter campaign showcases twelve new styles that will be available from the new collection upon successful funding.
"We are thrilled to unveil our new collection of totally re-designed girls leggings!" says founder Wendy Feller, "It's a win-win situation for everyone. We get to showcase our leggings to an audience of potential backers who are looking for innovative products, and in return, they get to be part of the creative process. It's completely rewarding for everyone involved."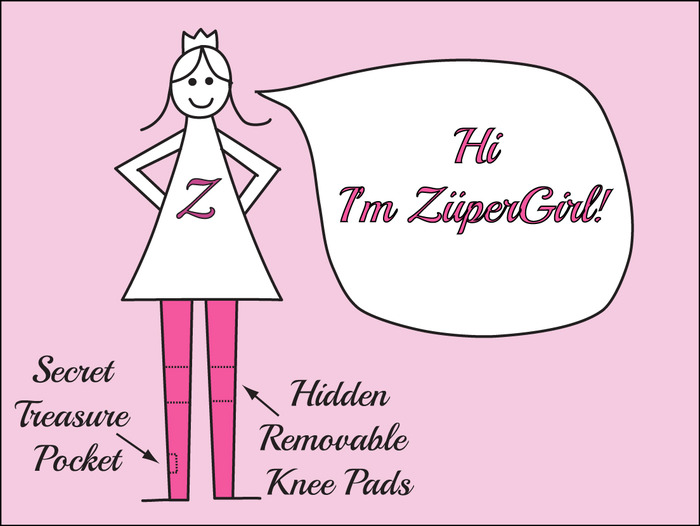 Züpers activewear promotes "girl power" by delivering clothing that inspires girls to be strong, athletic, active and brave while still allowing them to dress like a girl. These leggings are
durable

rip-resistant

silky soft fabric features UV Protection of 50+

moisture wicking

a tagless label and flat seaming for maximum comfort
The removable knee pads are inserted into a hidden pouch, preventing them from looking bulky and making it easy to add additional pads if needed. Originally designed in a heart shape, the knee pads have been re-shaped as squares for the new collection to ensure better protection and appeal to girls of all ages. Leggings will be available for a special price of $25 during the Kickstarter campaign as a special incentive for backers. Please visit http://kck.st/19jy27G to support this innovative line. The Kickstarter campaign ends December 1st, 2013. You can also follow the progress of the Kickstarter campaign online at Facebook.com/Zupergirls.