This post is brought to you by Nuby.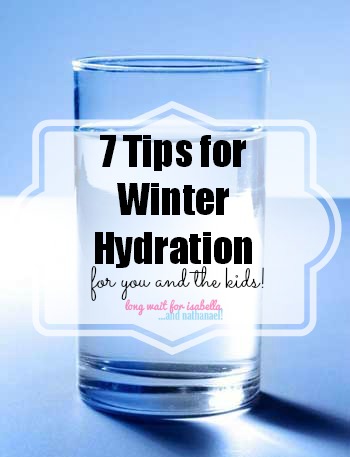 It is easy to forget to stay hydrated during the winter. When it is summertime, that hot summer sun is a great reminder that we are thirsty and we need water. But did you know you and your kids need the same amount of water year round?  I hate to admit it, but I am guilty of slacking off on water in the winter. Here are some simple tips for winter hydration for you and the kiddos.
7 Tips for Winter Hydration
1. Fill their favorite water bottle daily. If the bottle or cup is fun and ready for them to drink out of they are more apt to grab it.
2. Let your kids fill up their bottles. Getting them involved always makes them happy. My kids love to be helpers.
3. Bring everyone a water when you head out. It is easy to forget to drink water when you are out and about. Our family always fills up before we do to town and do errands.
4. Sometimes cold weather makes drinking ice cold water unappealing. Let the kids drink room temperature water or even warm water at times.
5. The kids might get bored with water. I know I do. Make it fun for them by adding some slices of fruit – think lemon, oranges, watermelon, or cucumbers.
6. Dry cold weather means it is time to pull out the humidifier at night. Use a child safe one to keep their lungs and nose nicely lubricated.
7. Eat healthy fruits and vegetables. There is a lot of water content in those little guys. Also, think about making and eating soups. Lots of water and vegetables can keep you warm and hydrated during the winter!
What does your family do to stay hydrated during the winter?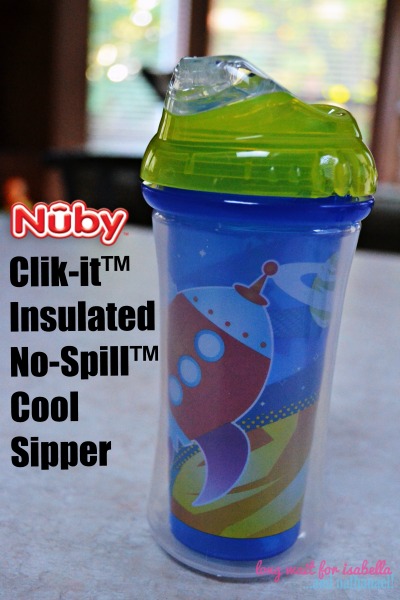 One cool cup that is sure to please a young child in your life is the Clik-it™ Insulated No-Spill™ Cool Sipper from Nûby!
About the Cool Sipper
Nûby's new Insulated Clik-it™ range of cups offers leak proof technology that you can see and hear so moms and dads won't have to worry about spills and leaks! The No-Spill™ Insulated Cool Sipper™ keeps liquids fresh and cool and helps protect furniture from a "sweating" cup. Engineered to make feeding and handling easier. You will be delighted with the transition thanks to Nûby's valveless, leak resistant design.
Connect With Nuby
I really love this cup and so does my Little Man. Four reasons I really do love it: 1. It doesn't leak. 2. It is insulated. 3. It holds 9 oz of water which is great. 3. The fact that it cliks when it is shut properly. Priceless. You have no idea how many cups have leaked on us over the years. This cup has honestly been our favorite so far. We highly recommend it. 
Buy the Cool Sipper
Nuby products can be found at Target, BuyBabyDirect.com, and Amazon.com.
Win the Cool Sipper
One lucky Long Wait For Isabella reader will win their own Cool Sipper. Simply fill out the Rafflecopter form below for your chance to win. Open to US residents 18+.