This post is brought to you by Supercuts.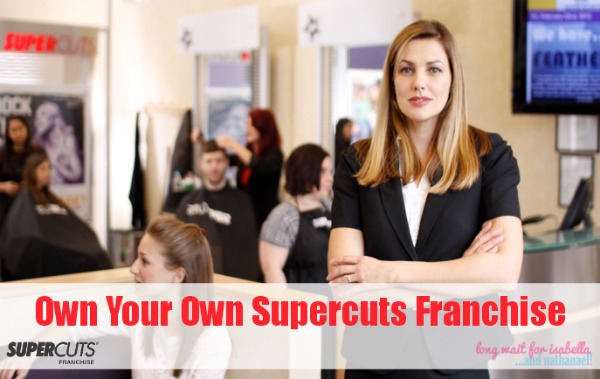 Have you ever thought about owning your own franchise? You'd be a business owner, and your own boss, if you started your own franchise. It does sound appealing, right? When you thought about the business you wanted to start, you might not have thought about starting a Supercuts franchise. But I want to debunk a few myths people might have about starting a Supercuts franchise.
Two Common Supercuts Franchising Misconceptions:
1. This business is for hairstylists. It's not a serious business for people who aren't hairstylists.
2. You need to know how to cut hair to open a Supercuts franchise.
These are both FALSE!
5 Truths about Supercuts Franchising
The hair care industry is stable. It is a need based business, not a want based business. (Frozen yogurt is a want, but a haircut is a need, both in good times and in bad.)

Cutting Hair cannot be made technologically obsolete.

Services must be performed by a licensed professional. As a franchise owner you won't ever be cutting hair, you will be in charge of running the business instead.

It's simple to own a Supercuts. You don't have a high amount of staff, inventory costs are low, hours are especially reasonable compared to other franchise industries such as food, automotive, child care, fitness, etc.

The Supercuts brand is widely recognized. It's also backed by national advertising, robust web and mobile presence and the Supercuts brand is sought after nationally.
To learn even more about the Supercuts franchise, read the NPR article about this exciting business opportunity. (After reading more about it, I wanted to own 41 Supercuts franchises!)
I will be featuring Supercuts two more times in the next two months. I really like that this is a great opportunity for women to get into the business world. The next two Supercuts franchising posts will be:
Who is the Supercuts Franchise Good For?
Who is Suceeding at the Supercuts Franchise?
You don't want to miss these posts!