This post is brought to you by Residence Inn Marriott.

Last week for Travel Thursday, I shared all about the Residence Inn by Marriott. I told you all the great things about this special chain of extended stay hotels. You all learned that this hotel is a place to enjoy, unwind and work. Best of all the Residence Inn is not a room, it's a residence. Truly.
By the time we fly back to Sea-Tac airport in Washington later this month, we'll have stayed at the Residence Inn for 30 days. You might think that 30 days with your husband and two kids is enough to make you go crazy, but really, I have stayed pretty sane. I mean, what mom is 100% sane, right?!? The major reason that things have gone so well here at the Residence Inn is because I love this place. We all do. My Princess isn't even counting down the days until we fly home. (Normally, she has a countdown calendar, but not this month.)
From last week's post, you'll find that this hotel has amazing amenities. There are way more than 10 reasons to love this place. But I wanted to share with you some of the things that have stood out to me. So here are 10 actual reasons I love the Residence Inn by Marriott.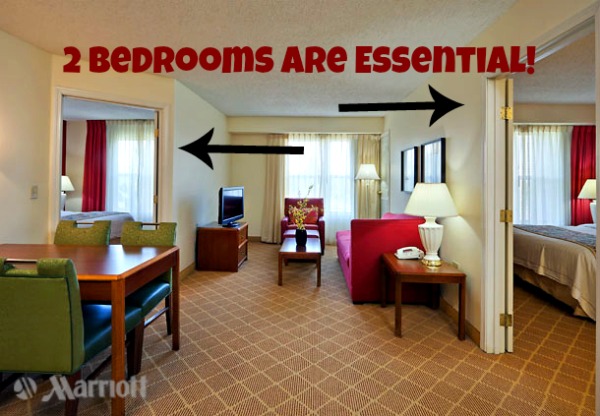 1. Two Bedrooms. So here's a secret: we stayed in a one bedroom for a week when we arrived. Guess, what? It was too small for us. 30 days in a one bedroom would have been like a steel cage death match. Really. I am being honest. We wouldn't have survived. I am super thankful there are two bedroom suites.
2. Full stove. I have stayed at many extended stay locations and it is not easy to find one that offers a full stove. There are often two tiny burners with no oven, but rarely can you find a full sized stove. This is a big plus when you are staying for 30 days like we do.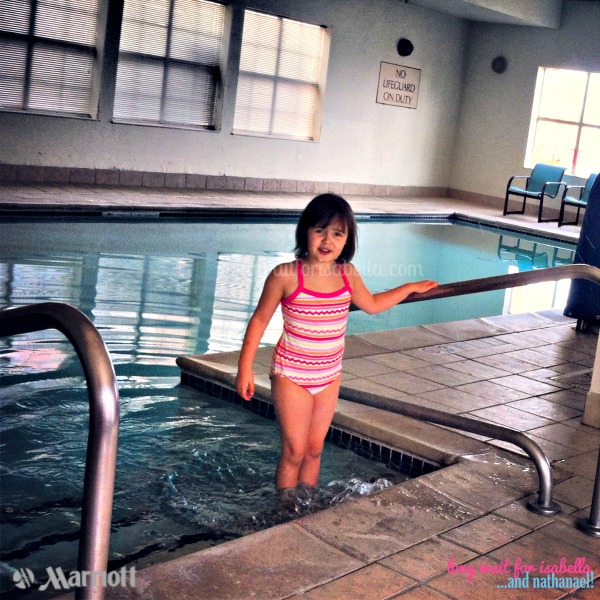 3. Pool. What drew us to this hotel in the first place was the heated indoor pool. A pool is now a must on our list when we travel. When you are in a new location and don't have family and friends to rely on, a pool really can be a great place to visit for long periods of time during the day. Our kids both LOVE the pool. The pool here at the Residence Inn is set at 82 degrees which feels cool but if you stay active, you'll be fine.
4. A Television in each room. When one kid wants Nickelodeon, the other wants PBS, and Daddy wants ESPN, more than one TV is appreciated. Very, very appreciated.
5. Food. When you feed us, we'll love you forever. Really. We get an amazing breakfast every morning with oatmeal, cereal, eggs, potatoes and then either pancakes, waffles, or french toast. Then, we also get dinner 2x per week. Our location has a special evening every other Thursday, including dessert night (which ROCKED!)
6. Friendly Staff. When you are staying at at hotel for 30 days, friendly staff is important. We have a great team here helping us. From the front desk, to maintenance, to management – the Residence Inn has quality people working on their team. I have appreciated their willingness to help our family on more than one occasion.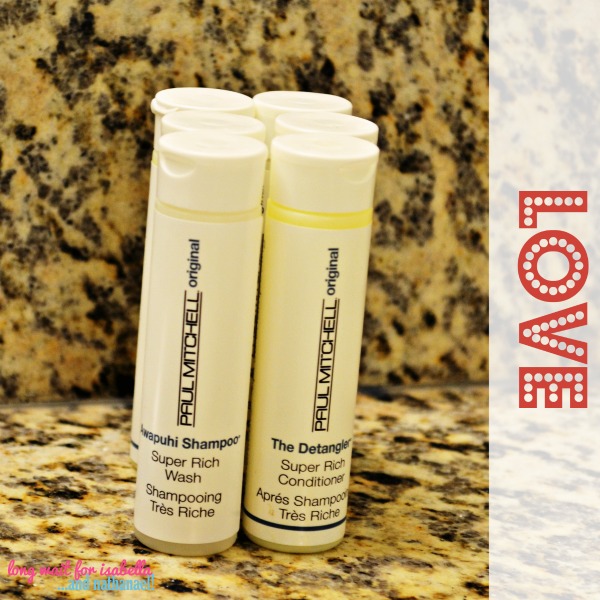 7. Shampoo and Conditioner. Ok, I know this might seem silly to you, but I really LOVE hotel shampoo and conditioner. They are small, functional and so so cute. But here at the Residence Inn, they don't offer some generic brand that I'd never use back home, they have Paul Mitchell. Paul Mitchell, people! How awesome is that? I haven't gone as far as taking any from the cleaning cart, but I don't have to. They bring me a new bottle of each every day.
8. Garbage Bags. My husband told me I must say that they have the best garbage bags than any other hotel we've stayed it. I guess terrible, cheap, flimsy garbage bags are his pet peeve. From day one, he has praised these bags. He loves them. I know that, like the shampoo and conditioner, it might not seem like much, but, when you are staying somewhere for 30 days, garbage bags need to work well.
9. Business Center. This is on my husband's love list. He has used the business center almost daily. A well working business center, when you have a traveling job, is so important. When your home is also your office, is also your hotel room, then a great business center is always appreciated in this family.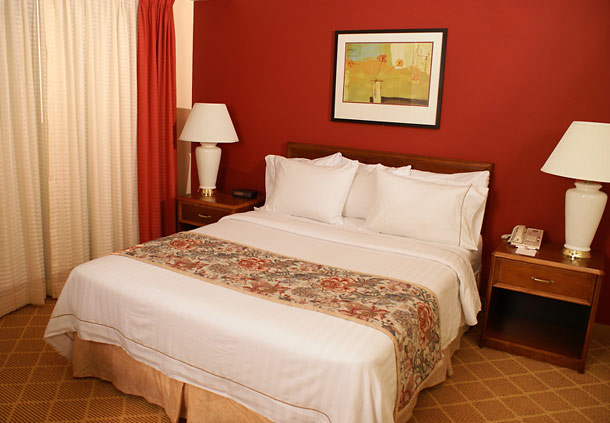 10. Comfortable Bed. 30 days in the same bed means you better have a comfortable bed. Believe me both beds in our suite are top notch. I don't know if I can go back home to my mattress and pillows now. I really love my bed.
What do you love about a great hotel?
Connect With Residence Inn
You can find Residence Inn on Facebook and Twitter. In fact, Residence Inn has an awesome Tweet for Relief campaign you can participate in. Turn your Tweets into $5 donations to the American Red Cross. Find out more here.
Come back next week for the third and final installment in this Travel Thursday series:
Just a Bit More About The Residence Inn by Marriott