This post is brought to you by Famosa.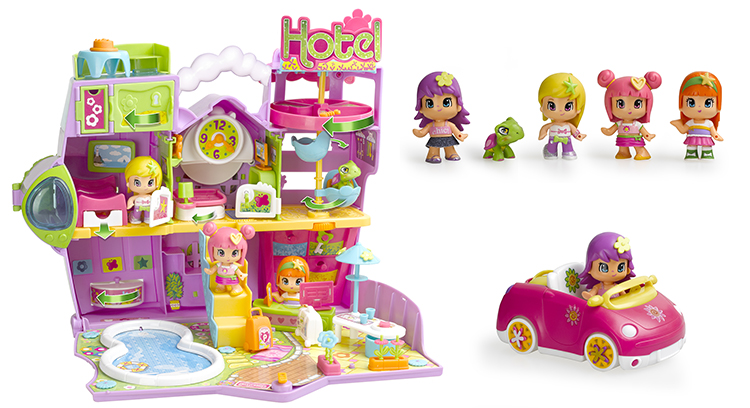 Last Christmas we were introduced to the fun world of Pinypon. We have a few Pinypon dolls and the Pinypon Caravan and believe me they get played with. When we were given the chance to review the Pinypon Weekend Getaway from Famosa I knew that my Princess would be ecstatic. In fact, I kept it in the box this time and hid it in the garage. She will find this one wrapped from Santa Claus this year.
Do your kids still believe in Santa? My Princess is starting to question his existence but she still believes. She is going to be so happy when she gets this 50 piece Weekend Getaway set from him.
About Pinypon Weekend Getaway
What makes Pinypon dolls stand out from all the rest are its mix and match possibilities. Swap their adorable heads, mid-sections or feet and hair! Plus Pinypon's attention to detail makes every playset an interactive adventure. Tucked inside the Weekend Getaway Hotel are 50 accessories for imaginative play — Pinypon friends can drive up in their convertible and check-in to a hotel. Once unpacked, they might put their toes in the pool or relax on the terrace.
For only $29.99 exclusively at Costco and safe for ages 4 and up.
Connect with Pinypon
You can find other Pinypon Toys at Amazon.com as well. But if you are a Costco member, this Weekend Getaway is the BEST DEAL.
Do you have a girl on your Christmas list this year? 
ABOUT FAMOSA
Established in 1957 by a group of artisan doll makers, Famosa has become a leading European toy company and doll manufacturer based in Spain. The company has a stellar reputation as a developer of innovative, safe and high quality products that foster all around development for young children. Families who grew up in Spain or Mexico likely have fond and warm memories of playing with their Famosa toys. Famosa currently operates in over 95 countries, reaching a wide range of consumers. In 2010, Famosa was acquired by Sun Capital Partners and its U.S. operations were established in October 2011, based in Mt. Laurel, New Jersey. The company markets brands including Pinypon, Nenuco, Nancy and Feber.