There are just some people in the family that it is difficult to find gifts for. When people don't "need" anything, I really love getting personalized gifts. A personalized gift is a great gift giving option for anyone. I wanted to share with you 10 unique personalized gift ideas from AGiftPersonalized.com.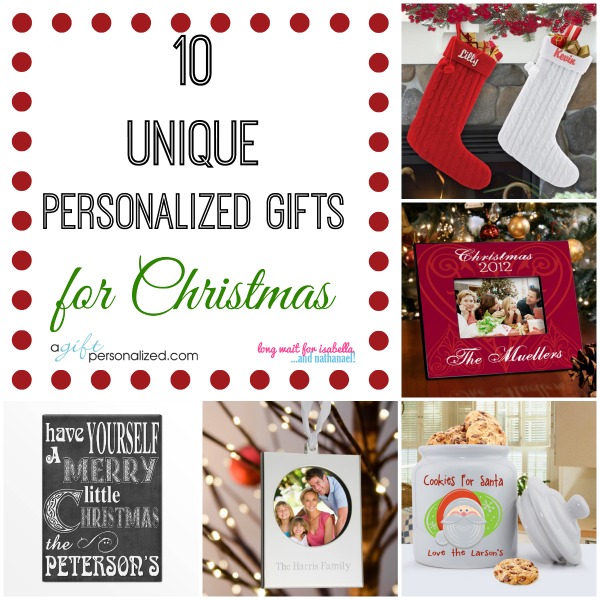 About A Gift Personalized
Nothing gives a gift that special feel quite like personalization – www.agiftpersonalized.com. Gift shop for custom personalized gifts for everyone on your list. Gifts for her, gifts for him, gifts for kid….and so much more.Your one stop gift shop on the web.With over 21 years of experience, we are your top preferred personalized gift shop on the web for 10 years running!
Connect with A Gift Personalized
We had the amazing opportunity to review the Heart at Home Family Travel Map. My husband and I both LOVED it. Since we travel quite a bit, we are able to use the provided red push pins and pin the locations we've been. The hubby and I have been to almost all the states the last 14 years since we've been married. So we decided to only pin the locations that all 4 of us have been together. How fun!
About the Heart at Home Family Travel Map
No matter how far you travel, home is always where the heart is. With our Personalized Heart at Home Family Map Canvas, you can relive the memories of your best family vacations when you display this map. Made of sturdy canvas, it is suitable for hanging anywhere in your home. A heart marks your home state and use the included red travel markers to keep track of your travels. Measures 14″ x 18″ x 1 1/8″. Select home state and personalize with two lines of up to 25 characters per line. Offered in 3 additional designs as well!
Which gifts would you love to personalize for your family and friends?
Head to A Gift Personalized and see if you can find it! There are many great personalized gift ideas!