Do your children love the Octonauts on Disney Junior? My kids love the Octonauts. Earlier this year we had the chance to review some fun Octonauts toys. This holiday season we received the newest DVD from the Octonauts. Would you like to win your own copy of Here Come the Octonauts? Keep reading!
Strange But True Octonauts Facts
Every Octonauts episode provides an exciting opportunity to embark on a new underwater mission and learn about marine life! Children and parents alike may find the following strange but true facts about sea creatures of interest. Did you know…
The Immortal Jellyfish is the only known creature that can live forever, morphing from old to young, 

and back again

Aggregate Anemones can make copies of themselves by splitting down the middle repeatedly

Unlike other animals, it's seahorse dads who get pregnant and carry babies in a pouch until they're 

born

Humphead Parrotfish have very strong jaws and can bite through rocks

The Oarfish is the longest fish in the sea—so long that old sailor stories of sea monsters were 

probably based on it

The tiny Snapping Shrimp can snap its claw and make one of the loudest sounds in the entire ocean

Little Sardines find safety in numbers, traveling together in huge groups – as many as 10 million!

The sailfish is the fastest creature in the ocean and can swim up to 70 miles an hour—as fast as a

speeding car!

The parrot fish can blow a bubble around itself which protects it from the sun—and hungry eels! It

can also change colors

Colossal Squids have the largest eyes of any creature on the planet
Tune into Octonauts on Disney Junior to discover more unusual and surprising facts about marine life.
About Octonauts: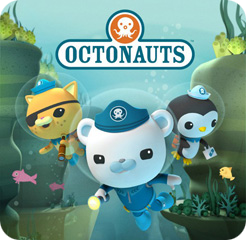 Octonauts takes pre-school and early elementary age viewers deep into the world of oceanography for fast-paced, high-peril action-adventure that encourages scientific exploration and discovery. As children follow the exploits of The Octonauts, the dynamic eight-member team of quirky and courageous heroes, they develop a deeper appreciation for the natural world that lives undersea.
Equipped with a fleet of aquatic vehicles, the Octonauts rescue amazing sea creatures, discover amazing habitats and often save the day before returning safely to their home base, The Octopod. To ensure accuracy and watertight science, Octonauts consults closely with its own team of marine biologists and has recently partnered with NOAA (National Oceanic and Atmospheric Administration) to increase the show's educational credentials even further.
Based on the original books by Meomi, the series is produced by Silvergate Media and animated by Brown Bag Films. Licensing partners include master toy licensee Fisher-Price and NCircle for DVDs. Find Octonauts at www.octonauts.com or on Facebook at www.facebook.com/octonauts.
Purchase Octonauts
Octonauts toys from Fisher-Price are available for purchase at Toys R Us. Here Comes the Octonauts DVD is available early 2014 at sold at NCircle Entertainment and Amazon.
Win Here Comes the Octonauts DVD
One lucky Long Wait For Isabella reader will win their own copy of Here Comes the Octonauts on DVD. Simply enter the Rafflecopter form below for your chance to win. Open to US and CAN residents 18+.