This post is brought to you by Lottie Dolls.

So, I call my daughter "Princess." Not just here on the blog but at home too. Which is fine. She is my Princess. She loves dresses, dancing, big flower headbands, and lip gloss. But, she also loves playing cars with her brother, watching Dragons: Riders of Berk, wrestling, pretending to know Karate, and swimming. As I am teaching her Kindergarten, I am in awe daily at how smart she is. All of these things about her are not contradictory, they make up her very unique and lovable personality.
That is why I love Lottie Dolls. Instead of sugar and spice style dolls these are smart a savvy dolls. A great doll for my daughter to play with. One that I, as a parent, appreciate and can stand behind.
For parents hoping their daughters will study S.T.E.M. – science, math, technology and engineering – playing with Butterfly Protector Lottie may inspire a love for nature, experiments and science. For a strong mind and strong body, girls will find intrigue with Kawaii Karate Lottie. Unconventional career paths can be found in Pirate Queen Lottie, not a current career track but a path that shows that women can do anything men can do! Right matey? And Robot Girl Lottie is a whiz at the science fair. An interest in robotics could happen by playing with this adorable toy!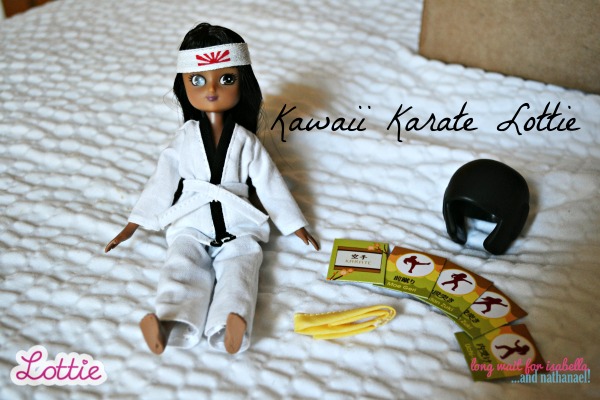 I knew my Princess would love Kawaii Karate Lottie. She wants to do Karate, and one day I will be putting her in lessons. She also loves tumbling around the house. So in addition to the Lottie Doll I will give her an extra outfit – the Raising the Bar outfit. That way, the Lottie Doll can also be a gymnast. You can purchase all the dolls and outfits from the Lottie website here.
Lottie Dolls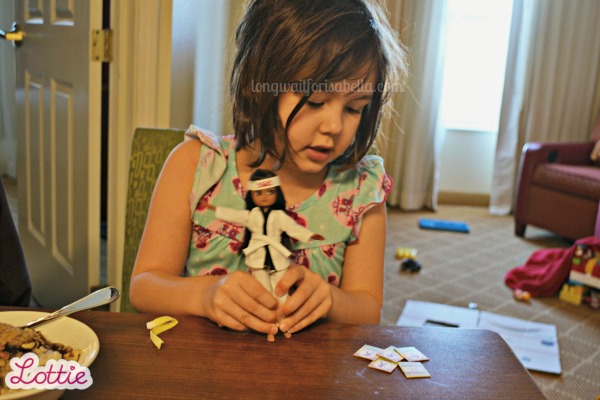 Lottie is a wholesome doll alternative for girls aged 3-9; she is 7.5 inches (18cm) tall, so is very portable and easy for little hands to carry around. The key point of difference is that Lottie has a 'childlike' body – she doesn't wear makeup, jewelry or high heels and she can stand on her own two feet (always a useful life skill for all girls, big and small). She's all about letting girls be girls, doing all the activities a child would do, not growing up too quickly, and presenting a healthy view on body image. Lottie's clothing is composed of tactile fabrics with lots of attention to detail, easy to dress and undress, with velcro fastenings. Her hair is lovely and soft; it doesn't tangle and knot like other doll hair. Lottie has bendable knees with ball socket hips and arms; her head can move side to side and she can do the splits front to back and side to side. Lottie is presented in a giftable, illustrated and collectible 'doll box bag', with minimal plastic packaging.
Connect with Lottie Dolls
Win Lottie Dolls
One lucky Long Wait For Isabella reader will win a Lottie Doll of choice and also an Outfit Set of choice from www.lottie.com! Enter the Rafflecopter form below for your chance to win. Open to US residents 18+.