This post is brought to you by SheSpeaks and Febreze.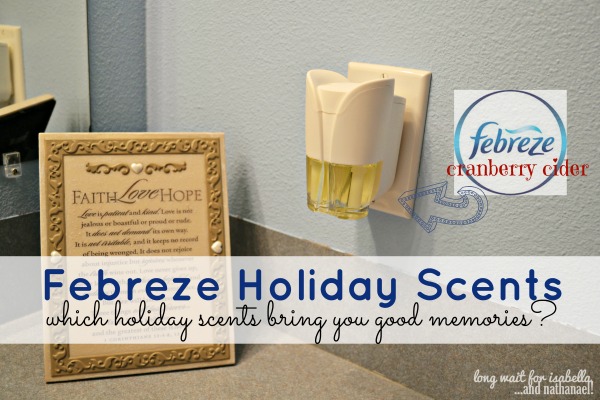 When the smell of pine hits your nose, or apple spice fills the air – it has the power to bring to mind the holidays. For me, these scents are inviting, warm, happy, and nostalgic. I love how scents evoke such a strong reaction in people. I can smell vanilla and it brings me back to the age of 17 and visiting a good friend's home.
Febreze understands how we associate great scents with amazing times in our life. That is why they offer three amazing scents in their holiday line of products. We all get the benefit of breathing happy with Febreze holiday scents.
About Febreze Holiday Scents
Febreze has limited time scents for the holidays. These scents include Cranberry Cider, Fluffy Vanilla, Glistening Pine, and Winter Frost. You can purchase these great holiday scents at your local Walmart.
Connect with Febreze
We put our Febreze NOTICEables (cranberry cider) in the guest bathroom on the lowest setting. We can plug it in for two fresh, alternating scents that last up to 30 days. It smells WONDERFUL. Truly, lovely. I wish you could smell it through your screens. You'd run out to Walmart to get your own.
At under $5 the Febreze Set & Refresh (cranberry cider as well) is a one-of-a-kind way to keep your home odor-free and smelling great. The Febreze Set & Refresh Cranberry Cider Air Freshener gradually releases lightly scented oils that actually eliminate odors and freshen for 30 days – longer than a cone, and with no plugs, no batteries, and no mess. The sleek, compact design fits perfectly into any decor, and works wonders in small spaces such as bathrooms, closets, and mudrooms, all month long.
Which scent brings good memories for you?
Win $10 Walmart Gift Card
How would you like to win a Walmart gift card of your own. You can try both of the products above this holiday season! Simply enter the Rafflecopter form below for your chance to win. Open to US residents 18+.