My daughter is five and she is struggling with her language skills. There are about 5 sounds that she just can't say. It is worry us, so we've made an appointment with our family doctor to get a referral for a speech therapist.
Do your children have any speech delays?
When I had the opportunity to review amazing toys and games from Super Duper Publications that were fun but also helpful for children with language development, I was so happy. Plus, my daughter LOVES games. She pulls down a game from our newly organized game closet daily for us to play with her.
The new games we received from Super Duper Publications will be nicely wrapped under our tree on Christmas Eve. I cannot wait to see her face when she opens them!
How about some great ideas for educational holiday gifts from Super Duper Publications?
Here are 10 fun and educational holiday gifts available from Super Duper Publications:
1. MagneTalk® Mealtime Game • Grades Pre K+
Bagels, blueberries, broccoli and bananas — which two fall in the same food group? Children love using this magnetic game to discuss and create healthy meals. Teach your children five basic food groups including meats, vegetables, fruits, dairy, and grains. The vinyl photo-magnets provide plenty of play options for learning new vocabulary and categorizing foods by their food groups.
2. MagneTalk® Telling Time Game • Grades Pre K+
Do you know what time it is? Kids learn to tell time in two different ways—first, on the traditional face clock and then on the digital clock! Get a jump on early numbering and reading skills with the bonus "Sentence Maker" section. Use this section to match sentences to the clocks or add your own fun activities.
3. MagneTalk® Yogarilla® Exercises Game • Grades Pre K+
OT may stand for occupational therapy but it's also the first two letters of OTis the Gorilla! And he gets to show kids how to form their little bodies into a tree, cricket, bridge and many more objects with this MagneTalk Yogarilla magnetic game! Children will enjoy working on strength, balance, and motor planning as they imitate OTis doing 15 different yoga poses.
4. Photo Fish Classifying Magnetic Game • Grades Pre K+
Little fishermen and women will get hooked on Photo Fish as they improve their sorting and classifying skills. These magnetic foam fish come with stickers showing photos of everyday items in the categories of Transportation, Clothing, Animals, Food and Around the Home. Grab a fishing pole, choose a category then reel in the fish that matches it! Comes with 60 stickers and 55 magnetic photo fish.
5. Turtle Talk® Fluency and Language Game • Grades Pre K+
Here's a friendly turtle that wants to help youngsters with their smooth and easy speech — and then skate with them around a turtle track collecting Turtle Tokens™. In this innovative fluency and language game, players pick a card, answer a skill level question, roll the die, "skate" around the board, then eagerly receive Turtle Tokens™ (found inside the turtle) as they go! Kit includes 240 illustrated playing cards — 40 animals, 40 home items, 40 foods, 40 things you wear and so on. With six questions per card, that's 1,440 opportunities for fluency and language practice!
6. Word Joggers® for Categories • Grades Pre K+
Instead of B-I-N-G-O there's Bat-Frog-Cat-Octopus-Ant on this "bingo" card for animals. The more knowledge students have about words — their attributes, associations, and categories — the quicker they can retrieve and provide information about those words in conversation. Word Joggers for Categories is a fun bingo game with colorful boards and cards that target language processing skills needed for identifying, describing plus categorizing items. The vocabulary addresses six common categories (Animals, Food, Clothing, Home, School, and Transportation), with 24 items per category. Each category includes five bingo game boards and three sets of cards (Vocabulary Picture Cards, Attribute Cards, and Category Cards) for a total of 30 boards and 396 cards!
7. Go For The Dough® Board Game • Grades Pre K+
To some, dough means money and to others it's the basis of a yummy pizza. In this fun game, kids get to deliver pizzas, make big bucks and increase vocabulary! All ages will love this fast- paced, vocabulary enriching and word meaning (semantics) board game. Go for the Dough will help kids improve their word recall, describing, semantic flexibility and phonemic awareness skills. Players start at the Pizza Palace. As students drive their cars around the board to deliver their imaginary pizzas, they choose Super Dough Dollars. Each of the 480 Super Dough Dollars reviews a language skill that is crucial in expanding word knowledge.
8. Hopping Frogs® Language Game • Grades Pre K+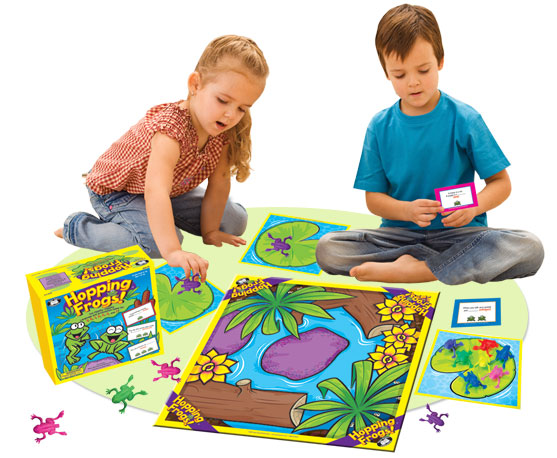 You don't need to read to get hopping on this fun board game.This hands-on game combines the fun of children helping their frogs "jump" from the "frog pond" (board) to their "lily pads" with development of early language and articulation skills. For articulation, the 420 game cards focus on earlier developing sounds (P, B, T, D, K, G, and F) in a fun and enjoyable way. Each sound has specific question cards for initial, medial and final positions in single words.
9. 500 Prefixes, Suffixes and Stems Super Fun Deck • Grades 4+
Recall from grade school the difference between ante and anti? Knowing the meaning of various word parts can greatly expand students' vocabulary and help them figure out the meaning of words they have never seen or heard. This unique deck presents 500 illustrated prefixes, suffixes, and stems. One side of each card presents a word part and its meaning, along with two words (using the word part) and their definitions. A whimsical picture helps illustrate the first word. Use this side of the card to teach the word parts. The other side is a flashcard to test their knowledge. The game comes in a sturdy tin with handle for easy storage.
10. Story Prediction • Grades 1-8
This Story Prediction Fun Deck with Super Duper Secret Decoder has 56 cards to improve your students' ability to predict what will happen next. Students listen to or read a story and choose the answer that makes the most sense for the story ending. Students can self-check answers with the Super Duper Secret Decoder. Just hold the decoder over the answer choices. The correct answer is highlighted in invisible ink!
I don't know about you, but these are exactly the kind of products I like my children to have. These are just 10 great examples of what Super Duper Publications offers on their website. You can find so much more, including products for those with autism, common core items and even free stuff!
ABOUT SUPER DUPER PUBLICATIONS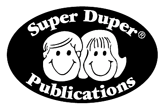 Sharon and Thomas Webber founded Super Duper Publications in 1986 with two products and two types of stickers. Sharon started creating easy-to-use therapy materials while working as a Speech- Language Pathologist in the public schools. Thomas was a practicing attorney before focusing his talents on developing educational materials also.
Fast forward 27 years – today, they are making hundreds of creative, colorful educational and therapy materials that grownups and the kids they love, just love. Keeping the kid inside all Super Duper employees is their South Carolina headquarters designed as a castle with amazingly decorated rooms for conferences, customer service, administrative and even the restrooms! Take the tour inside this one-of-a-kind castle headquarters online at http://www.superduperinc.com/castletour/default.aspx.
Connect with Super Duper Publications
Save at Super Duper Publications
Save 15% off with code DGCMGVD7 at checkout. This offer is good until December 20th! Plus, shipping is free on all orders $20+ to US and CAN! That is amazing!!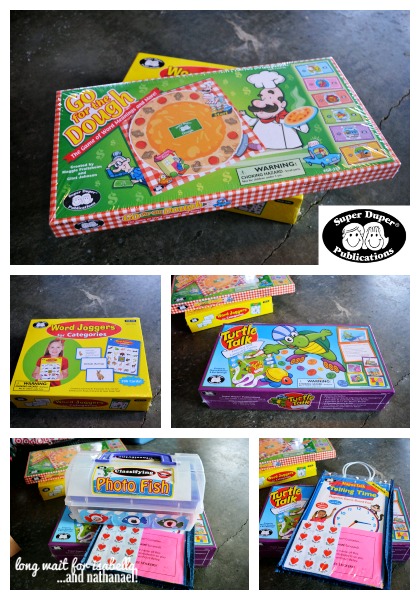 We will be enjoying these games in our household, and like I said above, I can't wait to see my Princess open them on Christmas morning. I know she'll want to play them all that afternoon.
This is a sponsored post.