We organized our game closet this week. We were able to get rid of games we no longer play, organize games by age, and make room for new games. Does your family love games? We have so many games, and my daughter loves playing them with us. I can't wait until we can play classic games with her. You know the ones we all grew up with? In just a few short years, we will be playing them all.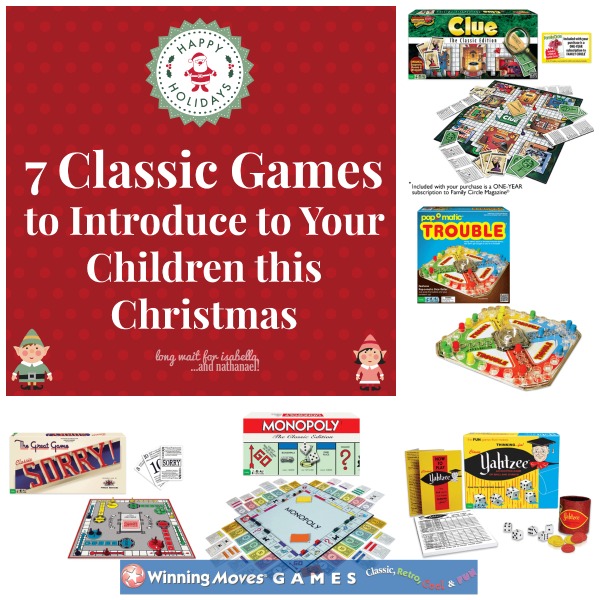 This holiday season why don't you introduce your children to classic games? Not the fancy game console, cartridges, apps, or computer games but the actual board games. Kids love playing games with their family. Here are 7 classic games that I think should be on your holiday shopping list:
PAYDAY

SORRY

TROUBLE

YAHTZEE

CLUE

MONOPOLY

THE GAME OF LIFE
Which other classic games are a family favorite in your home?
You can purchase all the above games and many more from Winning Moves online. In fact, the game we were sent to from Winning Moves – Payday® includes a complimentary subscription to Family Circle magazine!
About Winning Moves
Winning Moves is a leading maker of board games, card games, and puzzles. Since our first year of operation in 1995, we have forged a close relationship with one of the world's largest game companies, Hasbro, Inc., owner of Parker Brothers and Milton Bradley. As a result, many long-lived Parker Brothers and Milton Bradley games are now made exclusively by Winning Moves!
Connect with Winning Moves
PAYDAY® THE CLASSIC EDITION
The classic Game of Making and Spending Money! You'll make money every month, but you might spend it just as fast! This is my kids favorite game right now.
Which classic game is your favorite? Which classic board game should I add to this list?