This post is brought to you by the Residence Inn Marriott.

The one question I often get asked is, "Where do you stay when you are traveling?" The answer, of course, is that it varies. But ask me where I prefer to stay, and it would be extended stay hotels that offer one or two bedroom rooms. Hands down.
This month, while we are in the Denver area, we are staying at a Marriott Residence Inn. Have you heard of the Marriott Residence Inn? If not, you are in for a treat. This place ROCKS!
The next three Thursdays, I want to share with you all about the Marriott Residence Inn and hopefully by the end of this Travel Thursday series, I will have you convinced that this is THE PLACE TO STAY for extending stay hotels.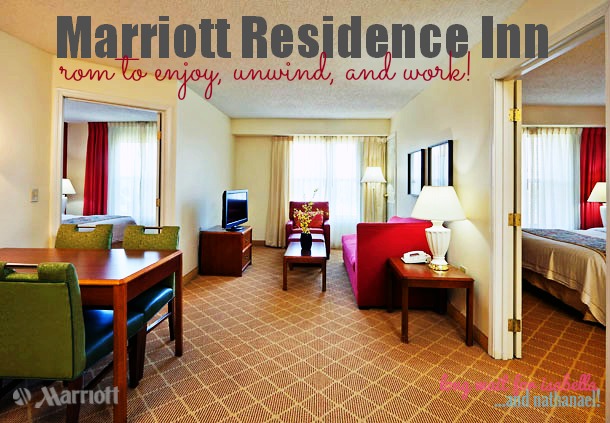 The Residence Inn gives you three amazing things: room to enjoy, room to unwind, and room to work.
Room to Enjoy
Free Hot Breakfast

Free Grocery Delivery

Free Wi-Fi

Fully Equipped Kitchen

24-hour Market

Dry Cleaning on Site

Complimentary Paul Mitchell Products
Room to Unwind
Complimentary evening socials
Pool and Whirlpool Spa
Fitness Center with TV
Large Lobby to Relax Outside Your Room
Outdoor Spaces with BBQs and Firepits
Private Meeting Spaces
Room to Work
Spacious studio, one and two bedroom suites with free Wi-Fi
Business center with free access to computers, printers, and fax machines
Private Meeting Spaces
Residence Inn by Marriott has over 600 all-suite hotels in the US, Canada, Costa Rica, Europe and the Middle East. To find a location near you visit Residence Inn website here.
Connect With Residence Inn
You can find Residence Inn on Facebook and Twitter. In fact, Residence Inn has an awesome Tweet for Relief campaign you can participate in. Turn your Tweets into $5 donations to the American Red Cross. Find out more here.
More Posts To Check Out
10 Things Our Family Loves About the Residence Inn Marriott
You will find out what we are enjoying as a family of four staying at a Residence Inn for a month. (Can you imagine staying in a two bedroom hotel room with two kids? You'll be surprised how much we love it.)