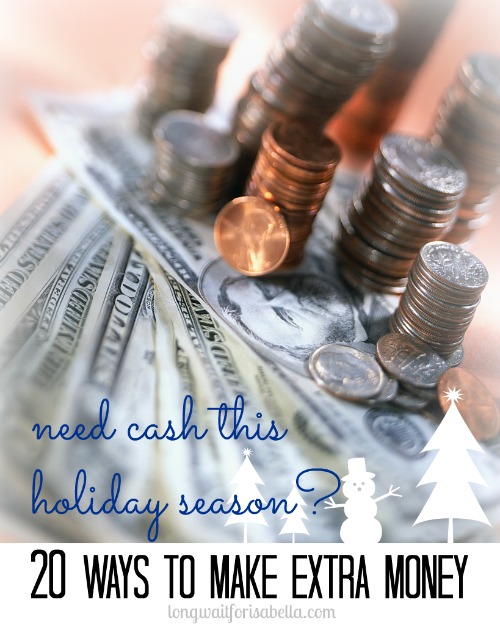 Less than 3 months until Christmas. Can you believe it? If you are strapped for cash this holiday season, I have put together some ways that you can have extra cash. Christmas can get expensive! These are simple ways to either earn or save cash this holiday season. Who can't use extra cash?
20 Ways to Make Extra Cash
Sell or consign old clothes. (At our local 

consignment

 store we can use our credit to buy new items in the boutique section.)

Sell DVDs you are no longer watching

Sell your household goods or old furniture on Craigslist

Sell electronics (think cell phones and old computers and laptops)

Sell your old books
Sell jewelry and accessories you no longer wear

Enter online sweepstakes (money, gift cards, and family gifts)

Join survey sites and get paid for your time online

Start selling your crafts at holiday craft fairs
University research studies
Cancel services you don't need
Sell your blood
Dog walking
Cat sitting
House sitting
Rent a room in your home
Rent out your car
Walk or take the bus to save money on gasoline
Shop with coupons
Eat at home instead of restaurants
What do you do to make or save extra cash?