This post is brought to you by LTD Commodities.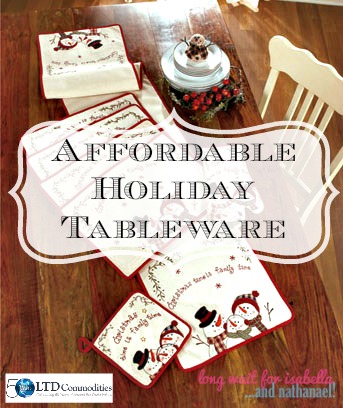 My husband and I hosted Christmas dinner for the entire extended family for a few years after we bought our new house. It was nice to open our home to our family and gather together. We enjoyed it. Once my parents built a larger home, they took over the Christmas dinner hosting. I still love to get involved with cooking and decorating even though it is no longer at my house.
Do you host Christmas dinner for family in your home?
Since we have a large extended family that lives on our reservation, we often use the nice disposable plates from the big warehouse store. (Sorry, to all my green friends. It is just much easier when feeding 40-50 people.) It is nice to use non-disposable tableware for family dinners though. Here are 5 affordable holiday tableware ideas for your upcoming holiday dinner. These are 5 things that will make your holiday dinner just a little bit nicer.
1. Placemats
2. Table Runner
3. Serving Bowls
4. Table Caddy
5. Napkin holder and salt and pepper shaker
What items do you like to have out for holiday dinners?
LTDcommodities.com offers the above items and much more online with affordable prices. Your holiday dinner will be well remembered and much loved by decorating the table with great holiday tableware.
LTD Commodities® began as a family owned and operated business in 1963 and has grown into one of the nation's premier catalog retailers. We are a trusted source of quality products at the lowest prices, where you save BIG every day.