Brain cancer has affected our family in a way that none of us could have predicted. When we got the call that my husband's sister had a seizure and a CAT SCAN showed a brain tumor, we were floored. I mean, this happened to other families sure, but not ours. My sister-in-law, had a husband and four children. She went to church and was a good person. We couldn't help but question God, and say "Why?" When they initially gave her only mere months to live (an uniformed nurse) we could barely contain our composure. We didn't want to lose Melanie.
I have blogged about the initial diagnosis and her first brain surgery and I realize I haven't given an update in a while. You can follow her journey with brain cancer at her family blog, Bucket List Family. She has been getting regular MRIs and the last two have shown some brain tumor growth. Slow growth thankfully, but enough that the doctors have scheduled another surgery next month. She has still managed to stay away from chemo and radiation and has been trying various natural ways to reduce brain tumor growth.
On Sunday, November 3rd my brave sister-in-law will be going Over the Edge for Brain Cancer!
About Over the Edge for Brain Cancer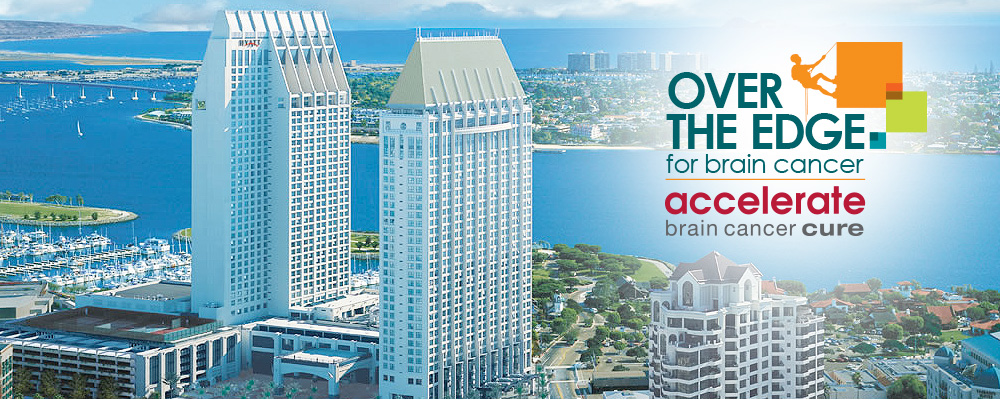 Brain cancer and tumor diagnosis rock families and, for most, throw them into a seemingly overwhelming world of unknowns including multiple surgeries, challenging treatments and tough rehabilitations. Brain cancer is a uniquely challenging disease that is not only in need of additional attention, but also an increase in strategic, focused research funding.

When it comes to our funding approach, as well as our fundraising efforts, it's time to go big or go home and take the fight against brain cancer to new heights… 365 ft to be exact.

It is our pleasure to announce the most exciting brain cancer fundraiser to ever come to San Diego! Join us on November 2 & 3rd as we go Over the Edge for Brain Cancer providing participants the once in a lifetime opportunity to rappel down the side of the Manchester Grand Hyatt San Diego – San Diego's tallest waterfront building.
So, my sister-in-law gets the opportunity to be an "edger" and repel down the largest waterfront building in San Diego! She is so brave. (Which I knew already!)She also has already been active in raising money for brain cancer. So this time, I am asking for your help because she needs your support.
Please visit her brain cancer fundraising page and donate. Every $5, $10 or $20 will add up!
*Proceeds from Over the Edge for Brain Cancer will benefit Accelerate Brain Cancer Cure and will be directed towards a San Diego-based brain cancer research project.