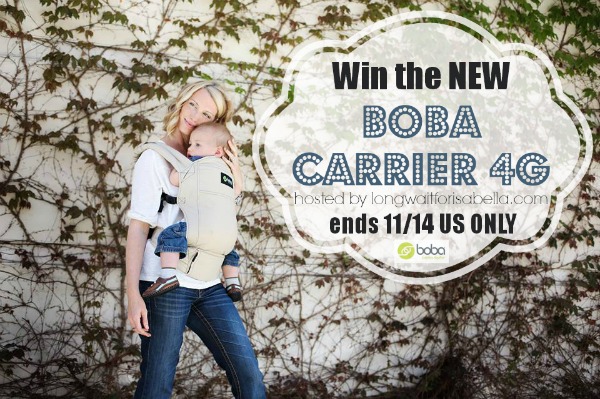 We are a baby wearing family. We bring a few different carriers with us when we travel. As my Little Man is getting older (he is turning 17 months old tomorrow *gasp*), I am truly thankful for our Boba Carrier. I can wear him on my back and it has foot straps. I really love those foot straps. Plus, this carrier is comfortable – much more comfortable than many baby carriers we have owned in the past. 
This week, Boba just announced that it has upgraded its Carrier. You can now purchase the Boba Carrier 4G!
Boba Carrier 4G
The Boba Carrier 4G is the newest edition of the Boba Carrier released October 28, 2013. There are some slight fit modifications as well as added an integrated infant insert. The insert comes with the carrier and it does not require you to snap up the waist belt (and switch the buckles) for the newborn hold, like the previous 3G did. The insert is small and attaches to the carrier and acts as a seat to keep the child high enough in the carrier, as well as support their legs. The insert has two positions, so it grows with the child. It can be snapped together for younger babies and then unsnapped so the child is seated lower, but still have their legs supported.
In addition, the hood has been modified so that it can act as head support for the newborn, much like the shoulder pieces of the Boba Wrap do for newborns. This carrier can be used well into toddler hood and supports 7-45 lbs.
You can find instructions on babywearing from the Boba baby wearing instructional page. With 8 colors and styles to choose from the Boba Carrier 4G with an ergonomic design, foot straps, and multiple adjustments make this carrier the perfect fit for your entire family! The Boba Carrier 4G retails for $125-$148.
Boba designs thoughtfully crafted products for active parents who want the time and freedom to create a real and caring bond with their child, while living life to the fullest.
Connect with Boba
Facebook | Twitter | Pinterest | Instagram
This is a sponsored post with Boba. All opinions are mine alone.