We have battled ear infections with our kids. My son has been dealing with ear infections more than my daughter did. He has already had four ear infections this year! We have used antibiotics each time he had an ear infection this year. They worked twice. The other two times, he just had to fight the infection on his own.
What is an Ear Infection?
An ear infection is a common condition that affects the middle ear, usually caused by bacterial or viral infections. Typically, an ear infection involves blockage of the Eustachian tubes (narrow passages that connect the middle ear to the back of the throat), draining fluid and air from the ear and regulating air pressure between the outside and the inside of the middle ear. Ear infection in adults is less common than ear infection in children. When the Eustachian tubes are blocked, fluid accumulates in the middle ear can cause an ear infection and inflict severe pain.
Natural ways to treat ear infections
1. Warm compresses to the ear.
2. Garlic and Oil mixture as ear drops.
4. Breast milk
Have you treated an ear infection with a natural remedy? What has worked for you?
I was excited to try out a product especially designed for ear infections – the Eardoc – with my children.
About Eardoc
Eardoc is a non-invasive device for middle ear infections and other conditions involving ear pain in children and adults. The Eardoc is a natural way to treat the problems in the ear and not just symptoms such as pain and inflammation. Using the Eardoc is easy, safe and children friendly.
How does Eardoc treat an ear infection?
Eardoc treats an ear infection by naturally opening the clogged Eustachian tubes, allowing drainage of accumulated fluids in the middle ear and providing natural ear pain relief. Draining the fluids and air accumulated in the middle will reduce the pain, take care of the inflammation, and allow relief quickly and effectively.
5 Quick Facts on the Eardoc:
a non-invasive safe-to-use device for ear pain with or without antibiotics
Eardoc opens the Eustachian tube by shaking the Eustachian tube and releasing the pressure on the eardrum
Eardoc can be used in conjunction with other OTC or natural treatment for ear infections
The device does not cause any known drug interactions and has no side effects
Eardoc is safe and effective for all ages above two years old when used as recommended
Connect With Eardoc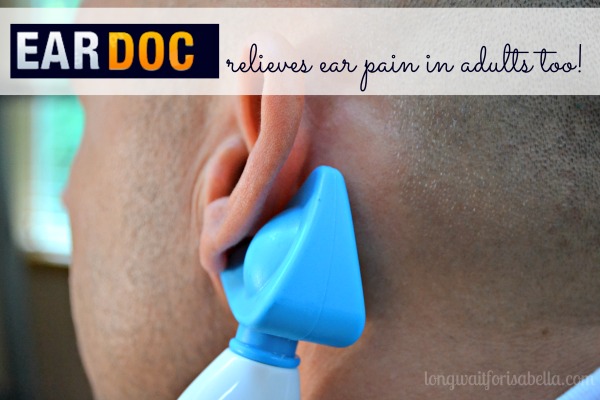 The Eardoc is great for us to take while traveling and especially while flying on airplanes. Not just for kids but also adults. My husband often suffers from ear pain when flying. What I really like is before I give my children antibiotics I can use the Eardoc first to see if the pain is relieved. I can also use this and antibiotics for pain and pressure relief. No side effects, easy to use, and works in some cases based on product reviews. I am excited that the whole family can use this!
I received one or more of the products mentioned above for free using Tomoson.com. Regardless, I only recommend products or services I use personally and believe will be good for my readers.