Thank you kaboom! Entertainment for sponsoring today's giveaway.

Horrid Henry, based on the best-selling book series by Francesca Simon, follows the title character's quest to save his school and make mischief along the way. The movie stars the illustrious Anjelica Huston and newcomer, Theo Stevenson, as the title character. The limited edition DVD, features a non-toxic, upholstery-friendly "slime pack," and is available nationwide.
About Horrid Henry DVD
When Henry fails yet again to hand in his homework for the umpteenth time, he inadvertently sets off an unexpected and curious chain of events. He forms an unlikely alliance with Moody Margaret, the infuriating girl next door, wins a talent contest, and stands up to his ultimate nemesis. With each antic crazier than the last, Henry finds himself inexplicably trying to save the very school which he has always professed to hate!
About kaboom! Entertainment:
kaboom! Entertainment is the dedicated kids and family label for Phase 4 Films, which releases episodic properties that include MAX & RUBY, TOOPY & BINOO, along with full length animated and live action features including The Gruffalo.
Connect With kaBoom! Entertainment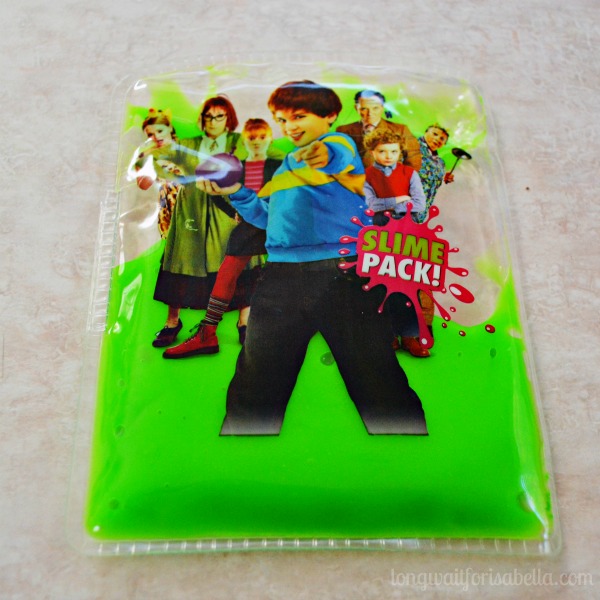 My daughter was unsure about Horrid Henry. We had not heard of it before we were sent the book and DVD for review. After I read the DVD synopsis and gave her the glop (shown above), we started reading the chapter in Horrid Henry about when he and Moody Margaret made glop in the kitchen. She only mildly enjoyed the story and wanted more colorful pictures. That lead to wanting to watch the DVD so she could visually see more of what she was already imagining.
I am not a big fan of Horrid Henry or Moody Margaret. There is too much bad behavior and not enough consequences for the behavior in the book. My daughter commented on how bad Henry and Margaret both were, and we were able to have a discussion about what they were doing wrong and what they should be doing. So at least that was a good thing. The books are recommended for grades 2-5. Horrid Henry is a bit advanced for her, and I don't think, at this time, we will get any more of the books. The idea of making glop is exciting for her now though, and I do remember being excited about making silly concoctions in the kitchen when I was young.
Win Horrid Henry
One Long Wait For Isabella reader will win Horrid Henry on DVD. Fill out the Rafflecopter form with your Facebook account or email address for your chance to win. Open to US residents 18+.