Thank you BH Publishing for sponsoring today's post.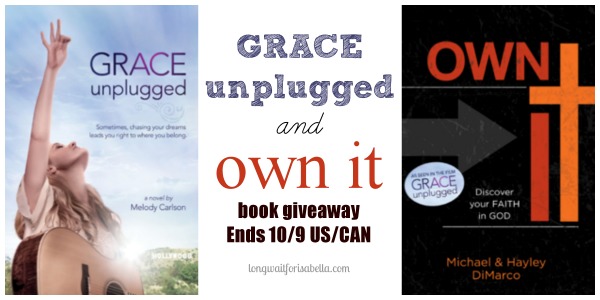 Grace Unplugged the movie is coming to theaters on October 4, 2013. Long Wait For Isabella readers will get a chance to win the book of the same name. You will also get the chance to win the book Own It by Michael & Hayley DiMarco. This is such an exciting giveaway of two great books. You will blessed to have these in your personal home library.
About Grace Unplugged the Novel
Grace Trey is an 18 year old singer as passionate about her Christian faith as she is her phenomenal, God-given musical talent. Both traits come from her father, one hit wonder Johnny Trey who found Jesus after losing his chart success two decades ago. When Grace encounters her own music break of a lifetime, the sudden dive into the "real world" puts her deeper beliefs to the test. Pop superstardom is just within reach but appears to require some spiritual compromise. Will Grace reject her faith, or will she own it?
Grace Unplugged is based on the motion picture of the same name starring AJ Michalka (Super 8) and Kevin Pollak (A Few Good Men) with performances by award-winning artists Chris Tomlin and Jamie Grace.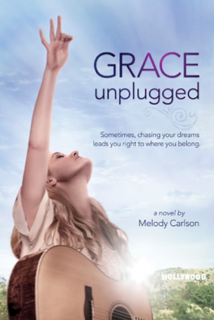 Grace Unplugged
Written by: Melody Carlson
Publisher: B&H Books
Paperback: 304 pages
Release Date: September 1, 2013
$15.99
About Own It, Discover Your Faith in God
The movie Grace Unplugged tells the story of Grace Trey, an ideal Christian teenager who is also a phenomenal singer. But when she is pushed into the "real world" at the tender age of eighteen after getting the music break of a lifetime, her faith is put to the test.
Own It mirrors the film by asking what it means to really "own" your personal faith rather than just automatically following in the footsteps of parents, friends, or other influencers. Best-selling authors Hayley and Michael DiMarco help readers understand what to do when faith meets real world challenges.

Without solid beliefs, poor choices are likely to follow. You must take the time to really know who you are, who you are becoming, and who God made you to be. It's your personal faith . . . own it!
Own It
Written by: Hayley and Michael DiMarco
Publisher: B&H Publishing
Paperback: 192 pages
Release Date: September 1, 2013
$14.99
Remember Grace Unplugged is coming to theaters on October 4th! Support quality Christian filming. Here is a trailer for the film:
Connect With Grace Unplugged:
Connect With B&H Publishing
Buy Grace Unplugged and Own It
Win Grace Unplugged and Own It
One lucky Long Wait For Isabella reader will win both of these great books. Enter the Rafflecopter form below with your Facebook account or email address for your chance to win. Open to US and CAN residents 18+.