Thank you Tabtor for sponsoring today's post.

About Tabtor
Tabtor is a revolutionary tutoring service that provides more customization, instant feedback, and more personalization. This makes tutoring fun for the student and efficient, all at a cost and engagement-level parents love! Personalization – Tabtor offers an extremely-personalized learning experience that is often not available in standard K-6 education. The Tabtor solution allows for customized worksheets for each individual student's needs, as well as a dedicated instructor to maximize student engagement. This includes specific instruction for those who struggle with math and problem solving skills – providing personalized attention in these areas. Convenience – Via an iPad, Tabtor worksheets can be completed in the convenience of the students own home, during downtime at school, in the car, or even at a sporting event among many others. This also eliminates the hassle of carrying around heavy practice workbooks, which are also environmentally wasteful. Proof of Learning Analytics – Tabtor allows instantaneous grading feedback and guarantees 24-hour feedback to issues or questions. Providing comprehensive analytics, it can track every student activity – keystroke, penstroke, eraser, etc., to help teachers and parents understand student performance and potential intervention points. The analytics are so in-depth that they can tell instructors how long it takes a student to complete a problem and can identify key areas of struggle for the students. There are currently 500 active students enrolled and students have shown a 20 percent improvement in just two months.
Connect With Tabtor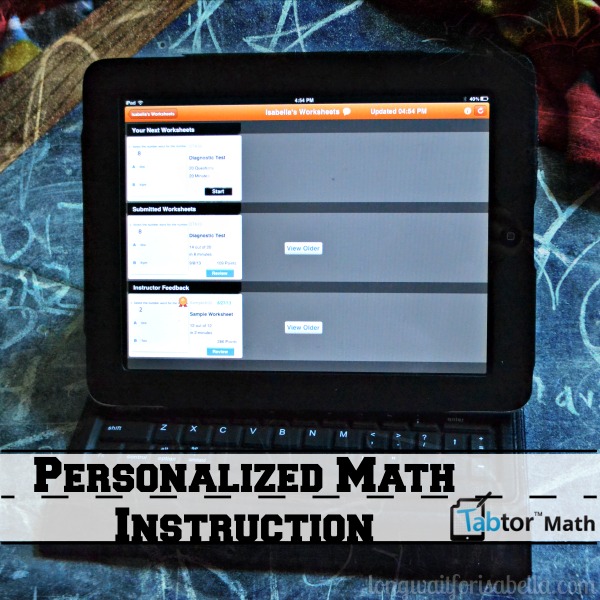 This week we began Kindergarten homeschool. My daughter is actually pretty good at math. When I signed us up for Tabtor, I sat down with her to help her with the initial diagnostic test. We use our iPad for homeschool often, and she really does enjoy the learning games she has on it. This isn't a learning game. This is actual school worksheets. Simple in design and very much like a sheet of paper you might get in class, Tabtor customizes the work for your child.
I was so surprised by how well my daughter did. The questions, I felt were very difficult for her age. They were not Kindergarten level and since we just started Kindergarten this week, she did good for her age of five. As long as we work on it together, and I explain the questions, she enjoys it. If I gave her this app, she would not do it alone. It isn't exciting enough to hold her Kindergarten age attention.
I can see the benefit of this app, as math gets more difficult for her, to you utilize this worksheets and help her learn and advance even more. The app is simple to navigate as well. If your child is struggling with math, or just needs a bit extra to help them succeed in math, then Tabtor is for you!
Sign up for Tabtor
If you sign up for Tabtor with this Long Wait For Isabella referral link you will get a $10 monthly discount. Instead of $50 per month for Tabtor, you will get it for only $40.
Win!
One lucky Long Wait For Isabella reader will win their own 3 month trial of Tabtor and a $50 Visa gift card! Simply fill out the Rafflecopter form below for your chance to win! Open to US residents 18+.
Disclosure: I was sent a trial for Tabtor and a $50 Visa GC for compensation for this post.