Thank you NewKideo for sponsoring today's post.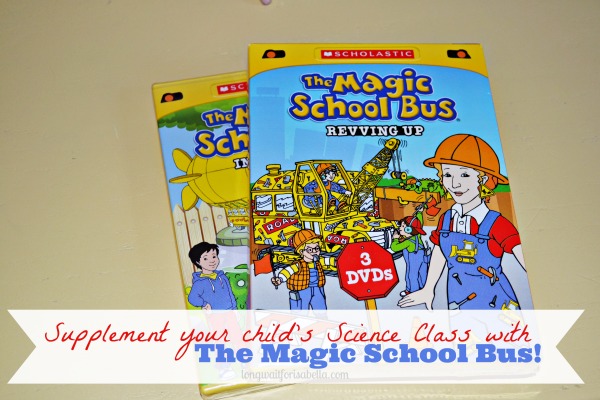 My daughter LOVES Ms. Frizzle and her class in The Magic School Bus DVDs. I enjoy watching them with her too. They are fun and very educational. I have even heard of homeschool parents using them to supplement Science time at home. On July 30th two new The Magic School Bus DVDs were released:

The Magic School Bus: In a Pickle
Ever wonder what's behind a peculiar smell? Viewers who hop aboard the bus for IN A PICKLE are sure to find out across four never-before-released episodes including the title episode about microbes, along with "Meets Molly Cule," "Makes a Stink" about smell and "Meets the Rot Squad" which covers decomposition.

The Magic School  Bus: Revving Up
Explore everything from the smallest cell to the largest galaxy in twelve never-before-available episodes of the Emmy Award®-winning TV series in THE MAGIC SCHOOL BUS: REVVING UP. Each of the three discs in the set – "Under Construction," "Getting Energized" and "Cracks a Yolk" – contains three new episodes running the gamut from computers and electricity to city critters and desert adaptation. And each DVD also contains a special bonus episode adding up to more than four-and-a-half hours of Frizz-tastic fun!
About The Magic School Bus series
Originally conceived by author Joanna Cole and illustrator Bruce Degen, "The Magic School Bus" has been capturing children's imaginations since the first book rolled onto shelves in 1986. Since then, the acclaimed series has sold over 58 million books and spawned a cottage industry featuring the animated TV series which premiered on September 10, 1994. Adapting the books into the series was an opportunity to help kids learn about science in a fun way – and boy, has it ever! The longest-running science series to air on television, the star-studded program features the voices of Lily Tomlin, Wynonna Judd, Dolly Parton, Tony Randall and Malcolm-Jamal Warner. Along with the adventurous and energetic Ms. Valerie Frizzle and her pet lizard, Liz, the entire class – along with the audience – was invited to explore volcanoes, the inside of the human body and much, much more!
My daughter has learned a lot about Science and the human body from watching The Magic Schoolbus DVDs and truthfully so have I. This is such a great series. It is perfect for any family to watch!