Thank you Crayola for sponsoring today's post.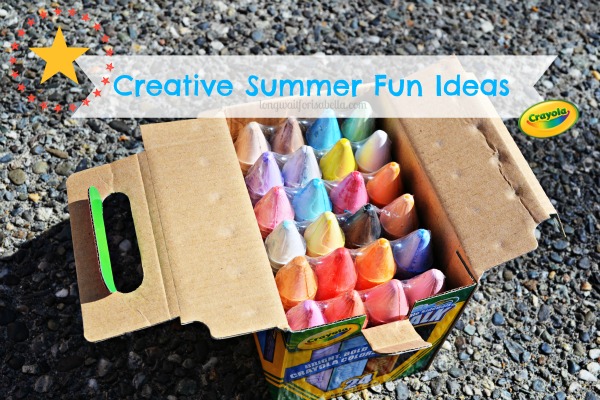 My daughter loves coloring, drawing, painting, and arts and crafts in general. She also loves anything that Crayola makes. Truly. So when she had the chance to try out some great Crayola products this summer she was very happy, as you can imagine.
Creative Summer Fun Ideas with Crayola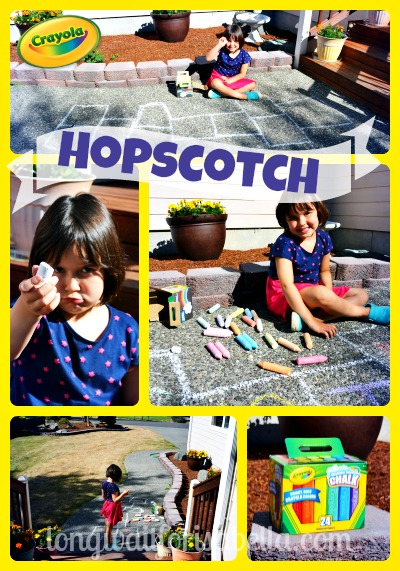 Washable Sidewalk Chalk:
A standout from the crowd — it's the first sidewalk chalk featuring 48 classic Crayola crayon colors! And that's not all – the chalk is also bolder and more vibrant than ever. With so many colors to choose from, kids can let their imaginations run wild to create beautiful masterpieces that may include "carnation pink" flowers, "sepia" colored tree trunks, "granny smith apple" turtles or "scarlet" colored lady bugs. A new anti-roll shape prevents chalk from rolling away and the wide sides allow kids to draw thick lines. Parents will appreciate that the chalk is washable from sidewalks and driveways – simply spray away with water!
My Princess loved making a hopscotch game and drawing rainbows on our driveway. I love that this washes away with water. The only thing about sidewalk chalk is learning not to push too hard. Our white chalk was almost gone after making a hopscotch game because we pushed to hard on the sidewalk.
Color Wonder Mini Stow and Go:
Mess-free fun hits the road with Crayola Wonder Mini Stow and Go!
The Color Wonder Mini Stow & Go gives you a portable writing surface and storage for your creations and markers.
Markers color only on special paper and not on skin, furniture or carpets!
Each pack includes a 15-page mini Color Wonder Coloring Pad and 3 Color Wonder Markers
We already have a few Color Wonder coloring books and markers, but this Mini Stow and Go is perfect for the car and church. My Princess took this Crayola product on our annual Canoe Journey and we were thankful for it.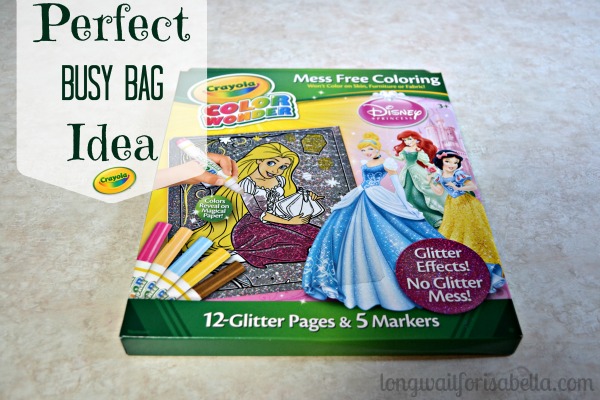 This Crayola product was by far my Princess' favorite. I mean Disney Princess Color Wonder Glitter Pages with 5 Markers? It was no contest for her. She loved the glitter and it was actually the first time either of us has seen this effect. She wanted more glitter too. It was a fun book for her and we also brought this product with us traveling.
Color Wonder Mess-Free Glitter Paper and Markers:
Crayola's new Color Wonder Glitter Paper is full of glittery fun but without the mess, since the glitter effects are in the paper. Kids can create dazzling, sparkly masterpieces with their favorite Disney Princesses and Fairies. With Crayola's Color Wonder system, parents can rest easy since the mess-free Color Wonder markers will only appear on the special Color Wonder paper – not on skin, clothing, walls or furniture. Kids can color and watch in awe as hidden images magically appear on the glittery paper.
Connect With Crayola
Disclosure: The Crayola product, information, and additional gift pack have been provided by Crayola. All opinions are mine.