Thank you Britax for sponsoring today's post.

We have been customers of Britax since our daughter was a baby. We read so many great car seat reviews, that when shopping for a new car seat for her 1st birthday, we chose to buy a Britax Roundabout. Her next Britax car seat will be the Britax Parkway, we already have it. So when my Little Man was born, I was thankful that we already had a car seat for him to come home from the hospital in – the Britax B-SAFE.
We have loved our Britax B-Safe infant car seat: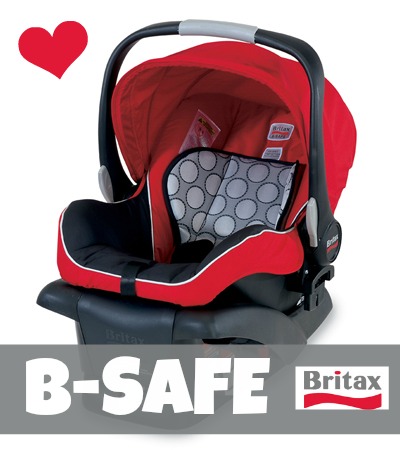 But as my Little Man started getting even bigger, we knew it was time to get him something with a big more room for his growing body and legs. That is where the Britax Marthon 70-G3 comes in:
About the Britax Marathon 70-G3
The Marathon 70-G3 is for rear facing children 5-40 lbs and forward facing children 1 year's old (but we are extended rear facing with our son until he is 2) and 20-70 lbs.
As you can see in the graphic above the Britax Marathon 70-G3 features:
EZ-Buckle System retains the harness buckle in a forward position and prevents the child from sitting on the buckle when boarding.
Base with SafeCell Technology features SafeCells designed to compress in a crash, significantly lowering the center of gravity and counteracting the forward rotation of the child seat which normally propels the child toward the front seat.
Integrated Steel Bars strengthen the connection to the vehicle and reduce forward flexing of the child seat during a crash.
Energy-Absorbing Versa-Tether features a staged-release tether webbing to slow the forward movement, reducing the crash forces reaching the child, and a two-point attachment to minimize forward rotation while anchoring the top of the child seat.
Side Impact Protection comprised of deep side walls lined with energy-absorbing EPP foam distributes crash forces, shields from vehicle intrusion, and contains the head, neck and body.
Tangle-Free, Five-Point Harness distributes crash forces across the strongest parts of the body and provides a secure fit.
HUGS (Harness Ultra Guard System) Chest Pads provide resistance to forward movement in the event of a crash.
High Density Comfort Foam provides an extra layer of padding to gently cushion your child.
Plush, Easy-Remove Cover with matching comfort pads and infant body pillow to provide extra comfort and easy cleaning without disassembling or uninstalling the child seat.
Two Buckle Positions offer a snug and secure fit for your growing child.
Quick-Adjust, No-Rethread Harness repositions the harness shoulder height without disassembling the harness straps.
Premium Lower LATCH Connectors for a quick and simple installation featuring a push button for easy release
Built-in Lock-Offs ensure a snug lap and shoulder belt installation with minimal effort
Anti-Slip, Contoured Base grips and protects the vehicle seat while offering optimum vehicle fit
Harness Holders keep harness straps pulled to the sides when placing your child in the car seat
Certified for Aircraft Travel
Made in the USA with global components
MSRP (USD) $289.99
What I Love about the Britax Marathon 70-G3: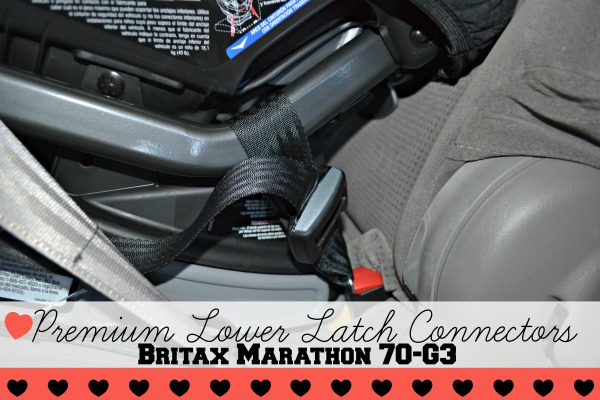 I really love how tightly my Little Man's new car seat fits into our mini-van. The Premium Lower Latch Connectors are very easy to use too. I remember how difficult my daughter's first car seat was to get into our car. Car seats have come a long way, and the Britax Marathon 70-G3 is great.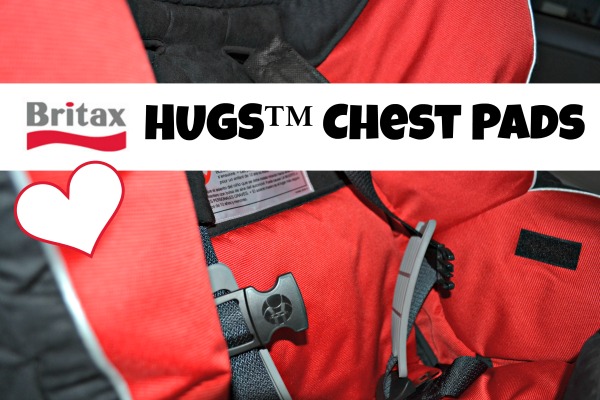 I know that this might be silly to you, but I love the HUGS chest pads. HUGS stands for "Harness Ultra-Guard System". These chest pads protect my Little Man in an event of a crash by minimizing forward movement. In addition to the tangle free 5 point harness of this car seat, I really love that HUGS also helps keeps the straps tangle free. That was my one biggest pet peeve in other car seats.
There is not anything that I hate about this car seat. The pad that my Little Man lays against can bunch up a bit, but that is literally the only negative issue we have had with this car seat. It was simple to install, easy to position the shoulder straps, it doesn't get all tangled up, and now that my Little Man is sitting higher, he is much more happy. As I mentioned before we are rear facing through the age of 2 and he is very content to sit and watch his big sister in the seat next to him.
If you are looking for a great car seat for your child, look no further. We HIGHLY recommend the Britax Marathon 70-G3.
Connect with Britax
 What do you look for when buying a car seat for your child?
Disclosure: I was sent the above car seat for review. All opinions are my own.