Next week we are flying to California. We are headed to Disneyland. With a 5 year old and 1 year old, I am a little nervous about how are vacation will go. So thankfully, I did a bit of pre-Disneyland travel studying and found some amazing resources.  Travel to Disneyland does not have to be scary. Just do some research and plan ahead. Here is what I found when researching online.
Travel to Disneyland With Kids Tips and Tricks: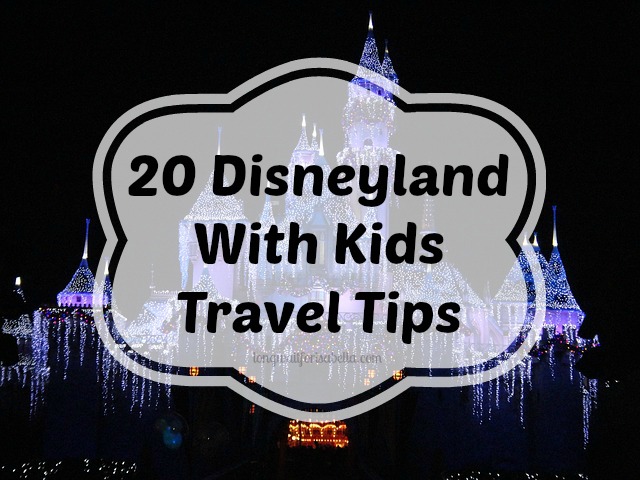 1. Bring an umbrella stroller
2. Bring a reusable water bottle
3. Bring snacks
4. Bring an extra set of clothes
5. Get your tickets online so you don't have to wait in the ticket line
6. Visit the newest more popular rides first
7. Make reservations for Disney restaurants
8. Make sure your camera is charged
9. Bring Sunscreen
10. Wear comfortable shoes. Tennis shoes can get wet and cause blisters. A good walking sandal is recommended.
11. Carry Bandaids
12. Bring Pennies and Quarters for the pressed Penny machine
13. Over-sized sharpies for autographs (characters may have a difficult time writing with regular pens)
14. Arrive early. The park opens at 10 am but you can get in security early and wait.
15. Glow sticks from the dollar store for at night
16. If meeting the Princess' is important then visit the Royal Hall
17. Get your fast pass – a must for Radiator Spring Racers and the World of Color
and 3 more great tips
18. 50 Disney Princess Outfits
20. Disneyland Autograph Book Ideas
So do you have any Disneyland travel tips and tricks?
If so, I'd love to hear about it.
A special thanks to Disney DIY, About a Mom, Faith Grace & Motherhood, Real Mom Kitchen, and Six Sister's Stuff for all their great tips, tricks and advice. I am not so much more prepared for this trip than I was last week!