Thank you Nuby for sponsoring today's post.
The newest cups from Nuby have arrived! The new Clik-it™ range of cups offers leak proof technology that you can see and hear so moms and dads won't have to worry about spills and leaks!
We were sent two cups to review: the Clik-it™ Easy Grip™ and the Clik-it™ FlexStraw™. I will be honest right from the start, we loved the Clik-it™ FlexStraw™ so much that we took it on our trip to Disneyland. And guess what happened? We lost it at Disneyland the first day. I would be lying if I said, I wasn't upset. I might have blamed my husband too…
We still have the Clik-it™ Easy Grip™ and will continue using this cup as well. They are both great cups. You can never have too many cups for your little one. We keep a cup in the diaper bag, oversized purse, the car, at my parents, and of course a few at home. It still seems like we can never find one when we need it though! Where do all the cups disappear to when you need them?
Clik-it™ Easy Grip™
Engineered to make feeding and handling easier, designed with two people in mind, the No-Spill™ Cup is perfect for beginners. Your little one will find the transition from bottle to cup an easy one with the cup's soft silicone spout and the unique contour shape that easily fits their small hands. You will be delighted with the transition thanks to Nûby's valveless, leak resistant design.
This cup is 10 oz and recommended for ages 6 months and up. This cup is also my Little Man's favorite cup. I like that the shape fits easily in his hands. I should have brought this one to Disneyland with us instead because he holds it so well. I also appreciate that it won't leak everywhere when he tips it back or leaves it lying around.
Clik-it™ FlexStraw™
Our new and unique FlexStraw™ is engineered specially to fit your child's small hands. FlexStraw™ features an innovative, ergonomic shape with easy-grips on the bottle that ensures a comfortable, secure grasp. This revolutionary design is made for the parent on the go and is great for day picnics, hikes, and your child's recreational activities! The soft silicone straw is uniquely designed to prevent drips and spills while being delicate and gentle to gums and teeth. All Nûby™ products are made of safe, durable, materials and exceed all government safety regulations and standards.
The Clik-it™ Easy Grip™ is 10 oz and recommended for ages 12 months and up. This one is the one we lost at Disneyland. I brought it to get him more used to drinking out of a straw. He still likes to tip this one back like the other cups. He doesn't quite understand how to keep the straw straight at the bottom of the cup. I really appreciate that this straw is soft and gentle on his mouth. I know he feels like a big boy when using this cup with a straw.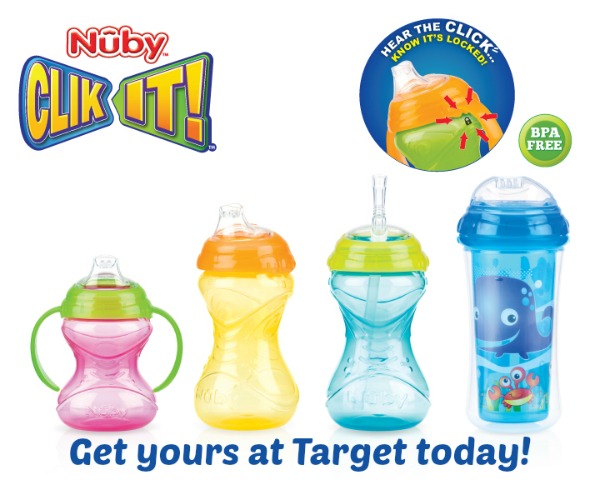 The Nuby Clik-it™ range of cups is available for purchase at Target stores the week of July 28th.
Connect With Nuby
Disclosure: I was sent the above cups for review. All opinions are mine.