Thank you Nûby™ for sponsoring today's post.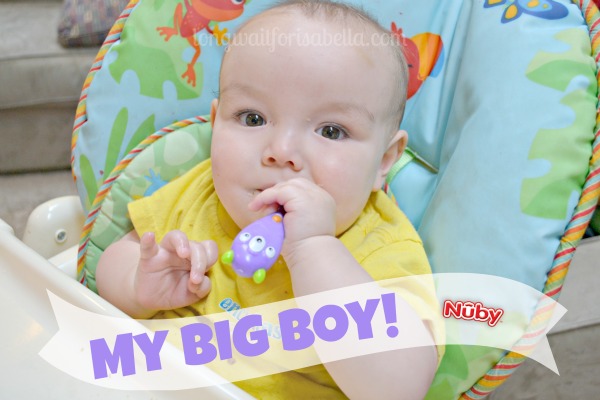 Now that he is 11 months old, my Little Man does not want to eat "baby" food any longer. He wants the same food we are eating. Usually he can eat all the things we have or at least part of our meals if I make them small enough. Here's a list of my Little Man's favorites.
Finger Foods For Baby
O-shaped toasted oat cereal
Small pieces of lightly toasted bread with butter
Small chunks very ripe peeled and pitted fruit (banana, mango, cantaloupe, avocado are his favorite)
Small cubes of tofu
Well-cooked pasta spirals, cut into pieces
Very small chunks of soft cheese
Chopped hard-boiled egg
Small pieces of well-cooked vegetables (carrots, peas, zucchini, potato, broccoli)
Small piecees of well cooked vegetarian meat or fish
Organic pre-packaged snack items for 9+ months
Eating these foods are fun on our Nûby™ iMonster™ Toddler Plate and iMonster™ Fork. In fact, keeping this baby feeding set from my 5 year old has become the most challenging. It is also her new go to favorite plate for her breakfast waffles.
About:
When babies begin to show interest in feeding themselves, having the right equipment is a must! Nûby™ feeding accessories are made to withstand the challenges of daily use and retain their bright color. This Toddler Plate is ideal for children who are beginning to feed themselves. Suitable for warm or cold foods.
Not only is it important to have utensils that are safe for the baby, but they should be specially designed to be easy for little hands to hold and use. Our colorful forks and spoons are designed to meet all of these special needs for either left handed or right handed babies.
Buy:
www.buybabydirect.com
www. amazon.com
www.cookieskids.com
www.diapers.com
Connect:
www.facebook.com/nubyusa
www.twitter.com/nubyusa
www.pinterest.com/nubyusa
www.instagram.com/nubyusa
What finger foods did you baby enjoy?
Disclosure: I was sent the above products for review as a Nûby™ Mommy Blogger. All opinions are mine.