Thank you Shine Bright Kids for sponsoring today's giveaway.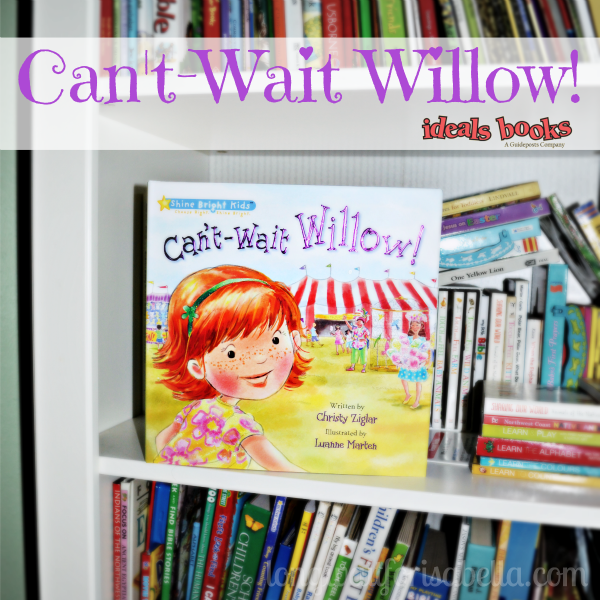 My 5 year old loves getting books read to her. We are working on her sight words and she is finding words she recognizes all the time. It is exciting for both of us during reading time. This week we had a new fun book to read during our time together. Can't-Wait Willow by Christy Ziglar.
About Can't-Wait Willow!
Willow is so excited that the Over-the-Top Circus has finally come to town! The only problem is, that when left to her own devices, she can't say "no" to some good things. On the way to the show, she is distracted by enticing treats and fun that she just can't turn down. Willow arrives late and is sad to find that, not only has she has run out of time, but money, and she won't be able to enjoy the pink cotton candy she's been dreaming of. Willow is given valuable advice and a second chance and is ultimately taught the lesson that sometimes in life you have to say "no" to good things to end up with something great!
About the Author
Christy Ziglar, financial planner, mother of twins and niece of legendary motivator and the world's original optimist, Zig Ziglar, is bringing the same timeless wisdom and ageless advice to an entirely new, younger audience through her new Shine Bright Kids picture book series. Can't Wait Willow is the first in this series.
About Shine Bright Kids:
The Shine Bright Kids series provides children and their families with a relevant framework to help instill solid values and teach the importance of making good choices. The principles that will be explored include: using good judgment, taking responsibility, having a positive attitude, and demonstrating perseverance.
Kids always want more, right? My daughter gets a lot. We spoil her a bit. But some days it is never enough. Well, most days if I am being honest. She wants more. This is the kind of book I like to read with her. One that teaches her to wait. To be patient. She does not need everything she wants. Children shouldn't get everything they want. I am glad that this book was written for children and for parents like me who need to learn to set better boundaries.
This book has a great message and amazing illustrations. Though I had a didn't like that Willow was walking around town all by herself in the story, my daughter LOVED it. She didn't even notice.
Can't-Wait Willow! from Ideals Children's Books from Ideals Books on Vimeo.
Connect:
Would you like to win your own copy of Can't-Wait Willow by Christy Ziglar? One lucky Long Wait For Isabella reader will win. Enter the Rafflecopter form below for your chance to win! Open World Wide 18+.
Disclosure of Material Connection: I received one or more of the products or services mentioned above for free in hope that I would mention it on my blog. Regardless, I only recommend products or services I use personally and believe will be good for my readers. I am disclosing this in accordance with the Federal Trade Commission's 16 CFR, Part 255: "Guides Concerning the Use of Endorsements and Testimonials in Advertising.