Thank you Robert Rose Books for sponsoring today's post.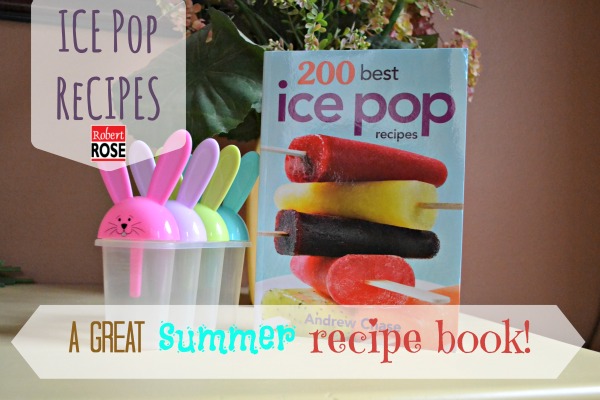 We love making our own ice pops during the Spring and Summer. It is so much more cost effective and I don't have to worry about what ingredients are in my pops. I can make them with any juice we have on hand and don't have to deal with artificial flavors, artificial colors or loads of sugar or corn syrup.
When I had the chance to review 200 Best Ice Pop Recipes by Andrew Chase I knew I had to get this book. My 5 year old loves making ice pops. See our little bunny rabbit ice pop maker? We can make 4 at a time and they are so tasty. But this recipe book? Amazing recipes. I didn't realize how many great ice pop recipes you could make at home.
How do these sound:
Orange Carrot Less-Drip Ice Pops (less drip are especially created for kids)
Raspberry Meringue Ice Pops
Pomegranate Berry Ice Pops
Avocado Ice Pops
More About 200 Best Ice Pop Recipes
These mouth-watering iced treats will appeal to adults and kids alike. It seems that everyone is rediscovering the fun appeal of ice pops, and it's no wonder — they're truly one of the easiest yet most satisfying treats you can make at home. What's even better is the fact that homemade ice pops have none of the artificial flavorings and colorings found in commercial varieties and are actually full of healthy, wholesome ingredients, making them the perfect frozen delight.

These tantalizing favorites are perfect for everything from cooling off on summer days to capping off a barbecue to providing an afternoon snack for the kids. And the frozen treats are made even cooler with innovative flavor combinations inspired by countries around the world, from Asia to Mexico and the Caribbean.

You'll learn everything you need to know about making pops at home, including advice on choosing ingredients, freezing instructions and foolproof unmolding tips. Why buy commercially produced pops when you can be indulging in sumptuous homemade pops in no time?
*Disclosure: I was sent the above book for review. All opinions are mine.