Thank you to Nuk for sponsoring today's discussion.

My Little Man is almost 11 months old. He loves eating "big boy" foods now. No more purees for him. But he still has some difficult eating certain fruits and vegetables. We love fresh produce in our home and purchase organic whenever possible. Apples and strawberries are among my 5 year old's favorite fruits but both of these fruits are still a bit hard for my Little Man to eat.
So the solution? The FreshFoods Cook-n-Blend Baby Food Maker from Nuk: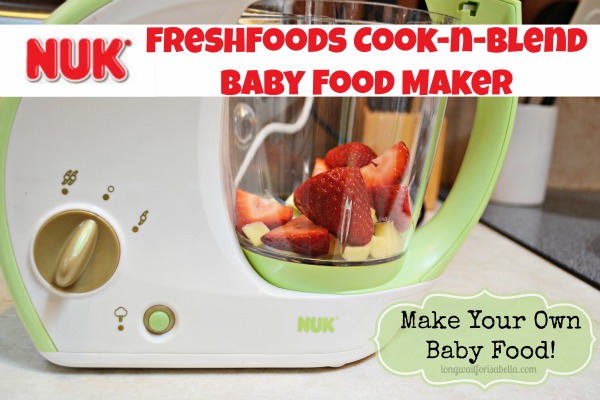 Preparing fresh food for your baby can be healthy and cost effective. The Freshfoods™ line helps make feeding easier with the ability to mash, store and freeze your own baby food. Use the Cook-n-Blend Baby Food Maker to make your own homemade baby food – up to 4 bowls at a time. With both smooth and chunky texture options, you can make food according to your preference. Healthy and nutritious is now quick and easy, too!
Makes up to 4 servings at a time with its extra large bowl
2 texture options — smooth or chunky
Convenient beep sound alerts when ready to mix
Includes healthy recipe booklet to get started
You can cook food for your baby in this baby food maker. There is place to add water and heat and cook and make purees. You choose to make them as thick as  you'd like. There are two blades – one for purees and one for smoothies. Since my Little Man is now 11 months old we decided to make a smoothie. That way my 5 year old could also enjoy it.
I made a small batch of Strawberry Apple Yogurt Smoothie using:
4 strawberries
1/2 apple
1/2 cup of vanilla yogurt
I first blended the fruit together and then added the yogurt. I blended it to the consistency I wanted and poured it into a bowl for my Little Man.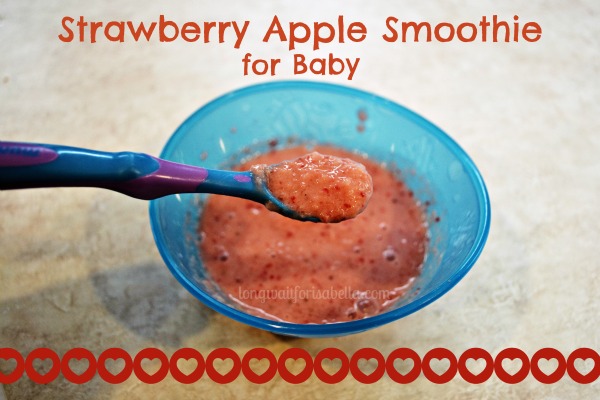 The verdict? My Little Man wasn't sure what to think about the yogurt. He at a few bites then decided it wasn't his thing. Next up, I will make it with soy milk or almond milk. He loves vanilla flavored milk.
This baby food maker was very easy to clean.
Guess who did love this smoothie?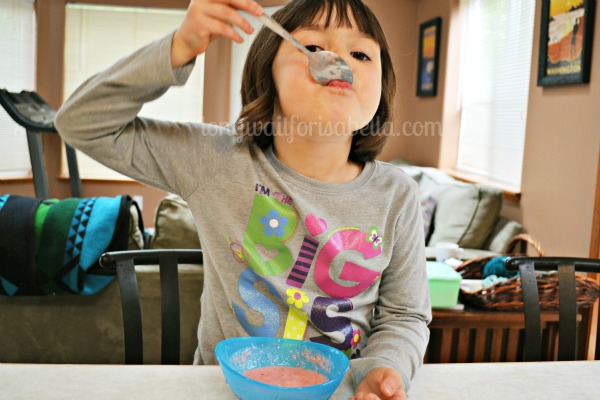 Yep, the 5 year old Princess.
Do you make your own baby food?
What is your baby's favorite food?
Connect with Nuk:
Disclosure: I received this product for free from the sponsor of the Moms Meet program, May Media Group LLC, who received it directly from the manufacturer. As a Moms MeetSM blogger, I agreed to use this product and post my opinions on my blog. All opinions are mine alone.