For the last three years we have had a tradition for Earth Day. We do an Earth Day clean up with our local reservation. It is actually one of my favorite community days of the year. Not only do we get to help clean up the Earth, I also love getting free stuff. (One man's junk is another man's treasure!)
Earth Day for our community consists of:
Community Clean Up
Beach Clean Up
Weeding Public Areas
Clothing Swap
Electronics Recycling
Community Salmon Luncheon
and educational booths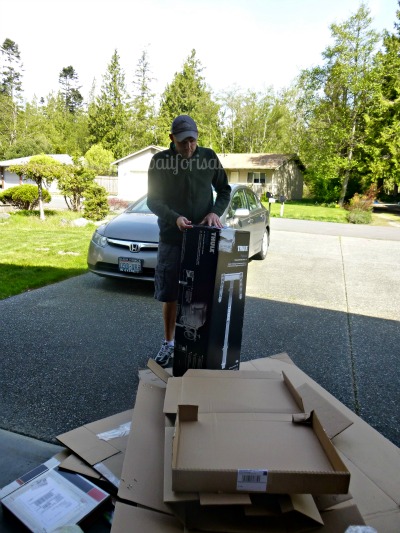 I woke up to a sick baby on clean up day so I decided to do things around the house first. I gathered all our of cardboard. (You know that as a review blogger, I have an overabundance of cardboard!) My wonderful husband flattened the cardboard for the recycling dumpster.
Next I got clothing together in bags for the clothing swap. I love that we can bring clothing down to our local recreation center and swap for other clothing. What doesn't get swapped gets donated to our local Domestic Violence Shelter.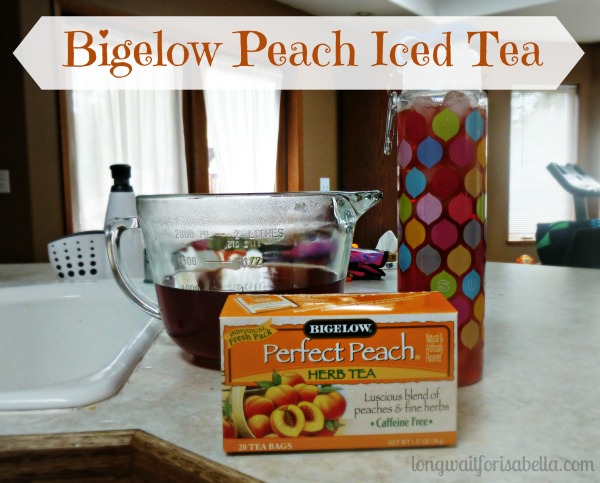 While the hubby was outside flattening cardboard my Princess and I made peach iced tea using Bigelow Herb Tea. Not only is a caffeine free but it is delicious. I brewed a large amount so that we could fill up our reusable water bottles.
We simply boiled 6 cups of water. Added 6 Bigelow Perfect Peach Herb Tea bags to the boiling water. We let it steep for 5 minutes. I then poured it into a class container and put it in the freezer to cool. Once cooled, I poured it over ice in our reusable water bottle containers. I also added stevia for sweetner. My Princess and I like it sweet.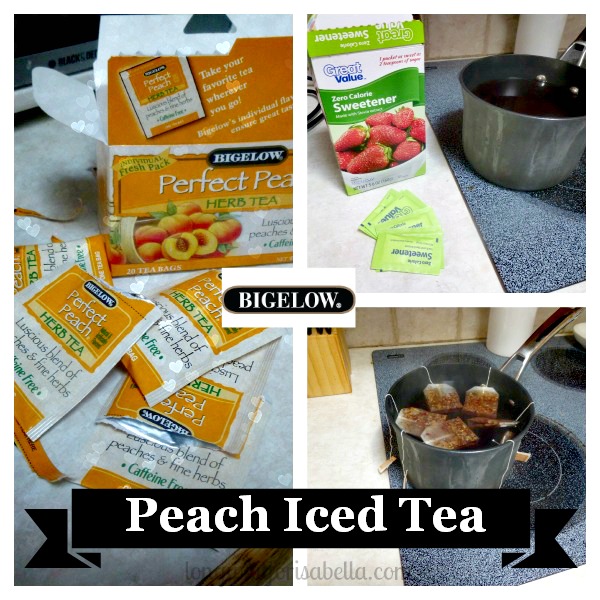 Bigelow Tea was the perfect drink option for us. We do like water, but having an herbal tea iced made the Earth Day activities even more fun. We brought our cardboard to the recycling bin first. Then we drove to the clothing swap. I had a clothing bag to donate for babies, girls, and womens. A lot more people participated in the clothing swap this year. But since what ever was left would be donated to the Domestic Violence Shelter,  I didn't want to actually take a lot. So I let my Princess pick one item. She found a cute pick sweatshirt that would be left at her Papa and Nana's house as an extra coat.
After grabbing some food at the salmon luncheon, we then brought our old printer to the recycling truck. It worked but we were not ever going to use it again. Instead of going to the garbage dump, it would be going to the local thrift store. The recycling truck was right by our beach. We brought our iced tea and work gloves and decided to help pick up garbage. Most of the work was done in the morning, but Princess HAD to help so we found a few pieces of garbage and did our part to make the beach clean.
After learning more about Bigelow Tea, I realized that this brand was the perfect brand to make iced tea with for our fun Earth Day Clean Up. Bigelow Tea is a sustainable zero waste company. They have recently joined the Ethical Tea Partnership.
"Our company's culture has always been guided by the principle of doing the right thing,' says Cindi Bigelow, third generation CEO & President of Bigelow Tea. "Sustainability and fair business practices are important in every aspect of our business. That's why we're proud to be part of the Ethical Tea Partnership, an organization that works with tea growers to establish methods for responsible conservation of the world's tea fields and improve the lives of the beautiful people who work them."
Bigelow Tea is now the tea for me!
Connect With Bigelow Tea
Do you like to drink tea? What is your favorite tea flavor?
To see more about my Earth Day shopping experience visit my Google+ album.
Disclosure: I am a member of the Collective Bias® Social Fabric® Community. This shop has been compensated as part of a social shopper insights study for Collective Bias® and Bigelow Tea #CBias #SocialFabric #AmericasTea