This is a Sponsored post written by me on behalf of White Cloud for SocialSpark. All opinions are 100% mine.
I don't know about you, but I actually feel good about myself as a person when I purchase items that are environmentally friendly. It also feels great to do things that reduce my carbon footprint. Here are 8 simple ways that our family is living the green:
Recycling
Shorter Showers
Washing in Cold Water and Hanging to Dry
Lights Out
Unplugging items
Using Reusable Shopping Bags
Buying Environmentally friendly products
Purchasing Natural Health and Beauty products
I know we can always be doing more and as new ways to be green come to light, I love trying them. My Princess is also learning how to recycle, reuse and conserve. I think this day and age it is important to take care of the Earth not just for ourselves but really for future generations. I am now thankful to learn that White Cloud has taken a great step to being more environmentally friendly. Their commitment has made it easier on our family in convenience and affordability. Living green does not have to be expensive!
White Cloud is a paper product brand that is carried exclusively at Walmart. GreenEarth is the newest product from White Cloud.
GreenEarth is an innovative, premium paper product made with 100% recycled fiber. GreenEarth products maintain the highest standards of quality while staying in-line with your budget. And we have lots of sheets on a roll. More sheets means less packaging per sheet.
Connect With White Cloud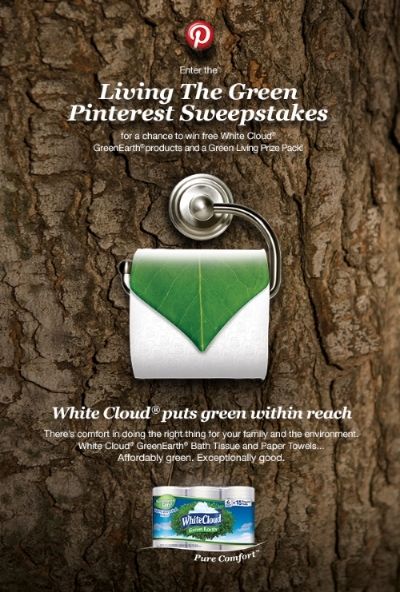 White Cloud's Pin It To Win It Living The Green Sweepstakes:
Follow the White Cloud Pinterest page
Create a board entitled Living The Green
Repin at least one pin from White Cloud "Living the Green" Pinterest board and add #LivingTheGreen to the comment on the pin
Complete the entry form at mywhitecloud.com/promotions
5 Winners will win a gift basket of GreenEarth products valued at $200 each. NO PURCHASE NECESSARY. Ends 4/30/13. Click here for Official Rules. Sweepstakes Rules and Regulations
How do you make "Living the Green" a family activity?