Our family loves getting the chicken alfredo pizza at Olive Garden, but since we are vegetarian we order it without the chicken. We decided to try and recreate our favorite pizza at home using vegetarian chicken:
What I like about making pizza at home is you know exactly what the ingredients are. We used
A whole grain pizza crust
Light Alfredo Sauce
Organic Mozzarella cheese
Vegetarian Chicken Strips
Green Onions
I have an app on my iPhone that lets my Princess "make" pizza. So when we made this pizza last week, she could not wait to help.
 Vegetarian Chicken Alfredo Pizza is a simple pizza is easy for a preschool age girl to help make. She didn't get things too messy either, which is helpful!
So the verdict?
We all LOVED it. Not as good as the Olive Garden because I know they use a full fat sauce and much more cheese, but this lighter lower calorie version really was tasty. My husband and daughter both want it again this week.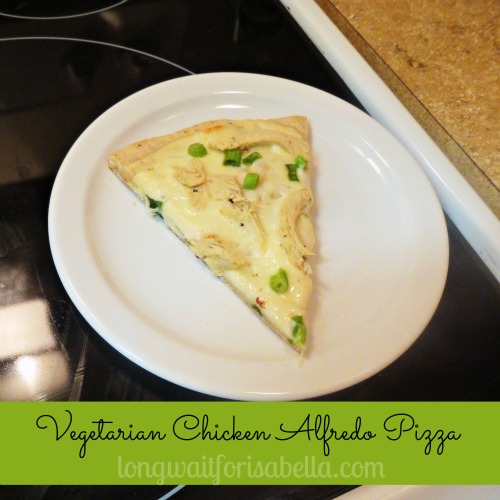 So yes, we will be making this Alfredo Pizza again!