We travel. A lot. I breastfeed. A lot. My Little Man is 9 months old and I am planning to breastfeed him until he is two. Here are my Tips for Breastfeeding On the Go:
1. Feed him when you can. Stopping at Starbucks during your drive? Feed him. Potty Break? Feed him. I have fed my son in the airport, in the restroom, in the restaurant, in the van, anywhere that is necessary.
2. Wear your nursing pads. Bring an extra pair on the travel day. There is nothing I dislike more than having a wet shirt that then dries and smells like sour milk.
3. Bring your nursing apron or shawl or scarf. Don't fight too hard with your baby to keep him covered. Most days I don't win. I just try to be as discreet as possible.
4. On the airplane feed on demand and then some. It is easier than entertaining a baby for 5 hours and those around you appreciate a quiet baby too.
5. During a meltdown just pause and feed him. Nothing soothes my Little Man like a time out with mommy's milkies.
6. Bring a travel pump. It is a lifesaver!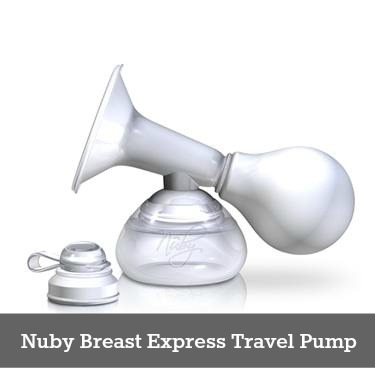 Nuby Breast Express Travel Breast Pump is easy to carry when you are on the go. It is small and can be an absolute life saver. The BPA free storage container also has a cap. You can manually express your breastmilk and store it while traveling. I love owning this product. Of course, it is not as efficient as my big electric breastpump but it gets the job done.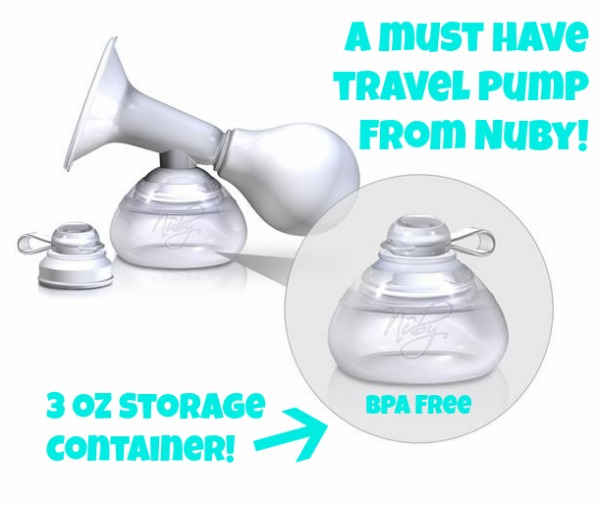 You can purchase the Nuby Breast Express Travel Pump from Buy Baby Direct for only $12.99!
Connect with Nuby:
Nuby often runs contests on their Facebook and Instagram pages. You won't be disappointed by following them!
 Do you have any travel Breastfeeding tips to add? I'd love to hear yours!
Disclosure: I am Nuby Mommy Blogger. I received the above product for review purposes. All opinions are mine.