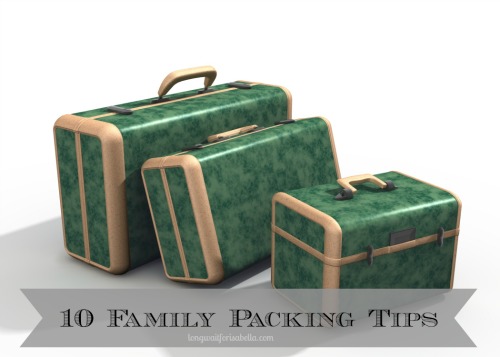 We were home from Northern California for two days and now we are off again. This time on a flight to Arkansas. Yes, we will be in Arkansas for the next month and I am pretty excited. We are living in a furnished apartment downtown with cable television and wi-fi. We will have nice weather when we arrive and I am looking forward to Spring sunshine!
After unpacking, going through our mail and repacking for the hundreth time (or so it seems) I thought it was time I posted a list of family packing tips. (This list is for when you are flying!)
Pack less clothes than you think you'll need. Really. If you can do laundry then pack less. I am now a 2 pair of jeans kind of packer. It works for our entire family. We seem to grab the same favorite jeans and shirts no matter where we are and we bring home clothes that we didn't even wear once. So this is my biggest tip.

Don't worry about folding clothing. They will get messed up and wrinkled. Roll them or lay them together with like clothing.
Keep your liquids separate. Double bag if necessary. I have had many leaks in my luggage.
Don't pack everything. Buy things when you get there. For example, we are not packing a diapers, baby food, shampoo and conditioner. I can buy those things when I get there.  Plus, all those things take up your weight limit on an airplane. I reason, that if my bags don't weight 50 lbs, then I can shop while I am gone.
Keep one change of clothing in your carry on. Yes, we have had to wait a day for our luggage to arrive. Only one time did we have to go out and purchase clothing. Now we know to carry clothes in the carry on bags.
Put valuables in your diaper bag or backpack. Then, you won't have to worry about checking those important things and they will be safe in your possession.
Pack snacks. Airport food is expensive. Plus, you can plan ahead and pack healthy options. I bought my us trail mix, dates, and crackers to snack on. We do always buy a large water at the airport though. I don't like waiting for the drink cart to reach my seat when I am feeling thirsty.
Pack entertainment. We now bring baby toys, an iPad, and our portable DVD player with an abundance of DVDs. It is much easier to have our kids occupied while flying. We have made flying so enjoyable that my five year said, "I can't wait to fly on an airplane this week! I love flying!"
Label your luggage. One time someone took my suitcase drove 1.5 hours home and realized their mistake. All the while, I was frantically searching at the airport for my luggage and then trying to find out if it made it on my flight. It was a headache. The person had to drive back and trade for their luggage and didn't even apologize! Put a unique luggage tag or ribbon on your luggage to distinguish it from the others.
If you have a baby, bring a baby carrier. It is so much nicer to be hands free. If you have older children bring an umbrella stroller. You can walk your child all the way to the gate and they will take your stroller for you and have it ready when you deplane. We bring both right now. My 5 year old still sits in the stroller in the airport and I wear my Little Man. We can attach our diaper bag and laptop backpack to the stroller while we walk.
While I am packing, I like to be quick yet enjoyable. Packing isn't the funnest thing to do, but to make it better, I like to play music. Thankfully, I got a new album this week: Loved by JJ Heller. Plus, now I have a new album to listen to on the airplane. Yay!
About Loved
When JJ Heller and her husband/co-writer, Dave, began writing for their sixth studio album LOVED, life looked a few shades darker, more painful and confusing than it had during the work on their work of the recent past. Over the past few years, the duo steered much of their material toward the whimsical and simple joys of life, love and new parenthood. But, when confronted by illness, death and broken marriages within their community, the Hellers chose to stay true to the weight of their season of life when crafting lyrics this time around.
JJ Heller is awesome. Faith-filled beautiful music that she writes and sings with her husband. If you have not heard JJ Heller you must check her out! Her music will be a blessing in your life.
One lucky Long Wait For Isabella reader will win their own copy of Loved by JJ Heller. Enter the Rafflecopter form below for your chance to win! Open worldwide 18+.
a Rafflecopter giveaway

Disclosure: I received the above mentioned CD for review. All opinions are mine.