This last weekend we decided to make easy yet cute cupcakes for church potluck. We were expecting more guests than normal and wanted to make a larger dessert. My Princess and I made mini sized cupcakes and regular sized cupcakes with the Jell-O poke method. We made Strawberry Lemon Cupcakes by using a lemon cake mix and strawberry Jell-O. and had a pretty good time doing it. We only at one mini cupcake each at the end too.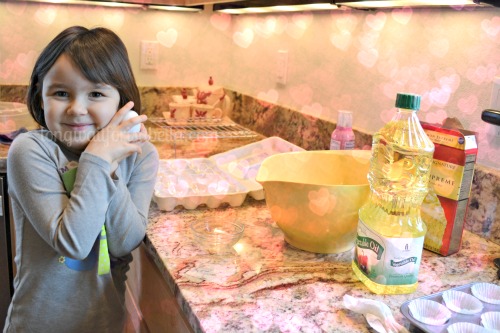 Baking time is in my Princess' top 5 favorite things to do. So I let her do as much as she can, which includes trying her best to crack the eggs. We made the cupcakes according to the box of lemon cake mix.
We let them cool for 10 minutes and mixed the Jell-O with one cup of boiling hot water.
I poked the cupcakes with skinny fork because I didn't have toothpicks. It worked. I actually should have poked them even more. (Reminder: keep the cupcakes in the pan. It makes pouring the Jell-O easier.)
We then placed the cupcakes in the refrigerator for 30 minutes before we decorated them. I frosted, my Princess shook the decorations on top. So easy. And very yummy!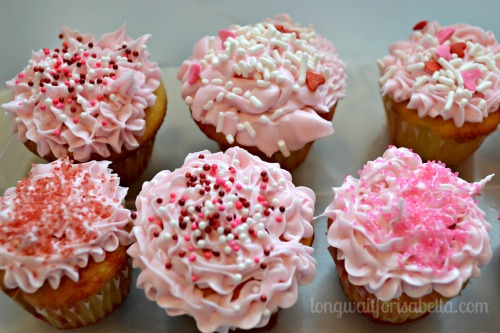 Aren't they pretty? Strawberry Lemon Cupcakes are a perfect treat for anytime time of year!
Ingredients
1 Box of Lemon Cake Mix
1 Box of Strawberry Jell-O
1 Can of Pink Decorator Frosting
Sprinkles
Instructions
Make Lemon Cake mix according to box instructions
Cool for 10 minutes after baking
Mix Jell-O packet with 1 C of boiling water, let dissolve
Poke holes in cupcakes
Gently pour Jell-O onto cupcakes
Set cupcakes in fridge for 30 minutes
Decorate
Any favorite dessert recipes at your house?