It has been too long since I posted a baby update. My Little Man is now 7 months old. I cannot believe how fast time is flying by. It is so crazy. I love this age, don't you? My Little Man is now using so many letter sounds, trying so hard to "talk". I swear there are times when he is saying 'Daddy' and 'Bella'. It is so cute. My parents and grandfather all think that he really is talking. Grandparents are fun like that, aren't they?
This month he is mastering grabbing his food, even the small pieces that dissolve quickly in his mouth. He is laughing so much more too! His sister is his favorite form of entertainment. He loves her to pieces. He has decided he doesn't like vegetable baby food. He just won't eat it. All he wants is fruit. So I have to mix vegetables and fruit to get him to eat. We are still breastfeeding mostly. I will breastfeed until he is two like I did with my Princess. You can see that he loves his Nuby Nibbler. I put a banana in there and he loves "biting" and sucking on it.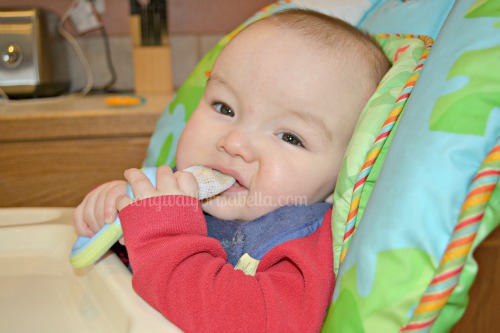 No crawling yet. He is getting up on his knees now, and lifting his large belly off the floor. This baby boy is big, people. Like 23 pounds big! So I think he just has a hard time getting his tummy up. My Princess was even bigger and she didn't crawl until 8 months old, so I am in no hurry for him to become more mobile. He is rolling around and scooting like crazy. If he doesn't crawl soon, he will be the best scooter there ever was. You have to watch this boy.
He recently learned a few new sound effects as well as giving kisses:
Big open mouthed wet kisses are his specialty. I love 7 months old!
In other news, I am excited to announce that I am a Nubby Mommy Blogger! Stay tuned for more information about Nuby and the products they offer!