Our Little Man has learned to sit up this last month. It is so nice to have him sit up and play, and he loves it. He doesn't want to lean back, lie down, or be held any more. He just wants to sit up and be played with. This is why I love Tiny Love, they have such great baby gift ideas for the holiday season.
About Tiny Love
---
Tiny Love® is a multiple award-winning global toy and baby product manufacturer which was founded in 1991 by Shoshi and Isaac Oren, entrepreneurs who had built the largest chain of baby supplies and toy stores in Israel. They began branching out into the field of developmental toys by focusing on creating toys and accessories to promote and maximize baby's development from birth through 12 months. Today, our products are distributed in more than 50 countries worldwide.
Tiny Love offers activity gyms, mobiles, soothers, baby gear, on the go toys, and of course baby toys. All the products that Tiny Love offers are great baby gift ideas this holiday season. We love all the Tiny Love products that we have reviewed with our Little Man. You must check them out!
Connect with Tiny Love
Baby Gift Ideas from Tiny Love
---
Follow Me Fred is for babies 6-9 months. Before baby begins to crawl, place Follow Me Fred in circular mode. Alternate between clockwise and counterclockwise. Place the toy in front of your baby on the floor and touch it to trigger its movement. At ages 9-12 months the cheerful music and slow movement will attract baby's attention and encourage the baby to reach forward and eventually to start crawling.
Musical Stack and Ball Game is for babies 6-9 months as well. Baby plays with the balls, holding them in her hand and shaking them to hear the fun rattling sound. Baby can further explore them with their mouth. Holding a ball in each hand and bang them together. At 9-12 months after baby has learned to sit up, baby enjoys dropping the balls through the large opening (in the elephants's body) into the base. As the baby drops the balls and watches them fall, the baby is amused at their reappearance in the small tray, which baby will just love closing and opening time and again.
My Review of Tiny Love Baby Toys
---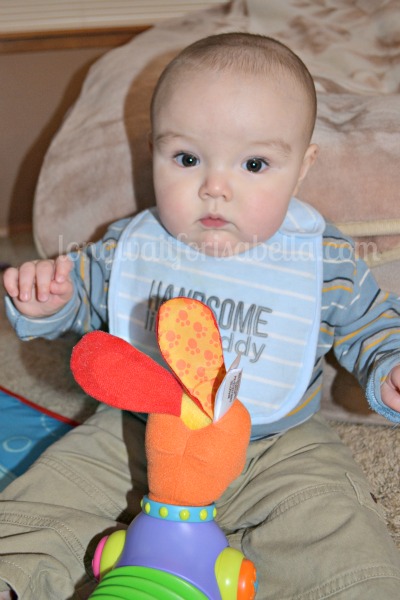 We had the chance to review the above mentioned baby toys and they arrived just  in time for our Little Man transitioning to sitting play. He loves these. His favorite thing right now is playing with Fred's ears because they crinkle. He also love the elephant's fabric trunk. He holds it, pushes it to the floor, grunts, and then puts it in his mouth. It is so funny to watch.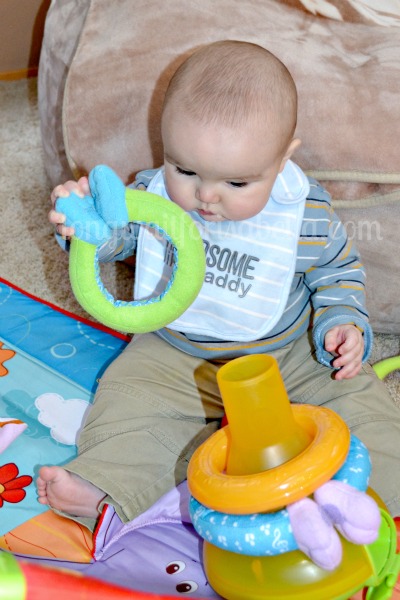 I like that these toys are well made, bright colors, small enough to store (my house can easily get overrun with toys!) and affordable. Follow Me Fred has a harder body, so when my Little Man can really pick him up I don't want him to hit his face or head with this cute dog. That is my only worry. We'll see, it has not happened yet so I am not too worried.
*Disclosure: I received the above mentioned products for review purposes. All opinions are mine.