Meet my sister-in-law Melanie. I have known her for 13 years and I can honestly say we are friends – good friends. She is a wonderful wife and mother to four great children. Three are boys that are all under the age of 8.
I have blogged about her before when we first got "The News". You see this last November, Melanie had a seizure in her bed early one morning. As a result, she had an MRI that showed a tumor in her brain. The news rocked our family to the core.
About Yahoo! Women Who Shine:
---
Yahoo! Shine wants to celebrate the women in your social circles who are blazing new trails, changing lives, and doing extraordinary things every day. Help give these inspiring women the recognition they deserve by nominating them for Women Who Shine. The woman who receives the most votes by the end of the program will win a $10,000 cash prize* (see terms and conditions).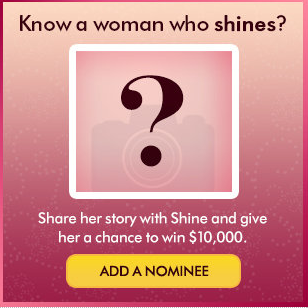 You can nominate a women in your social circle in the following 8 categories:
Activists
Athletes
Entrepreneurs
Healers
Public Services
Mothers
Survivors
Teachers

My Yahoo! Women Who Shine Nominee
After an official diagnosis, stage 2 Astrocitoma mixed Oligodendroglioma, and two brain surgeries, Melanie is now tumor free but not cancer free. Melanie's story, is not one of a victim though – it is one of challenge, growth, survival, love and best of all – hope. This is why I am nominating my sister-in-law Melanie for the Women Who Shine contest.
Three Amazing Things Learned From the Brain Tumor:
God and family are what really matters
The dreams that you have for your family need to be sought after – proactive living
Getting healthy (mind and body) is vital
Melanie will never be "cancer-free". Her life expectancy has improved but this tumor can eventually take her young life. But our greatest prayer and hope is that the tumor never grows back. Despite this unexpected medical crisis, Melanie has grown into a stronger woman – her faith, family relationships, and health have taken a front seat in her life. She is not a victim – she is a survivor.
This is why she should win in the Women Who Shine contest, don't you agree?
Won't you please take a moment of your time to vote for Melanie Kabo? 
You can find Melanie at Bucket List Family to learn more about her story.
Yahoo! Women Who Shine – goo.gl/beL6k via @longwait4bella Vote for Melanie yhoo.it/UeO7Au #womenwhoshine #cancer #mother

— LaVonne @Long Wait (@LongWait4Bella) September 17, 2012

*Disclosure: I was compensated for this blog post while participating in the SocialMoms blogging program. The opinions and ideas expressed here are my own. To read more posts on this topic, click here.