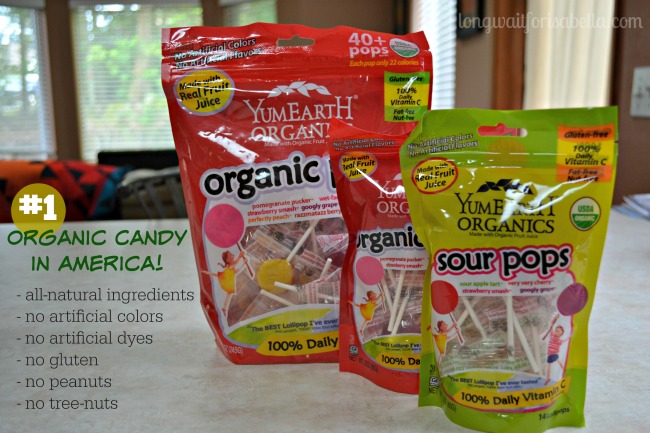 Candy, Candy Candy! Who doesn't love Candy! But have you tried organic candy? What would you do if you could have some delicious all-natural candy right at your doorstep? Introducing YumEarth!
YumEarth is a brand of candy produced by YummyEarth. Everything YummyEarth makes is certified organic or all natural, gluten-free, peanut-free, tree nut-free, and has no chemical colors, artificial flavors or high fructose corn syrup. This is why they are the #1 organic company in America! The company was founded by two dads to share healthier treats with their kids and are proud to share that each serving provides 100% of daily vitamin C. It has been called "The Best Lollipop I've ever tasted" by Today Show Food Editor Phil Lempert, YumEarth Organics Lollipops come in eight mouthwatering flavors: Very Very Cherry, Too Berry Blueberry, Strawberry Smash, Sour Apple Tart, Pomegranate Pucker, Razzmatazz Berry, Mango Tango and Wet-Face Watermelon. Featured as the "Snack of the Day" on the Rachael Ray Show, YumEarth Organics Gummy Bears have the quintessential texture of a traditional gummy bear with unique mouthwatering flavors: Pomegranate Pucker, Strawberry Smash and Sour Apple Tart.
YumEarth Candy is now available at Target! That's right, you have the option of buying the candy online or at your local store! Check this list to see YumEarth Candy is available at a Target near you.
Disclosure: This is a sponsored post. All opinions are mine alone.