Who am I kidding, I have no idea how to get your child to sleep. I mean, for 4 and  half years we have been struggling with our Princess to get her to sleep well. And then, BAM, this week she now is sleeping alone, in her own bed, in her own bedroom!
We are amazed. Truly.
We didn't do anything different. One night last week, I said, ENOUGH. We can't all be in the same room. My Little Man is in our room in a co-sleeper so I put my Princess in her bedroom and told her she needed to be a big girl. And she did it.
We tried other times and failed, but this time it worked. And I am so thankful. Extremely thankful. Thank you Lord!
11 Baby Sleep Tips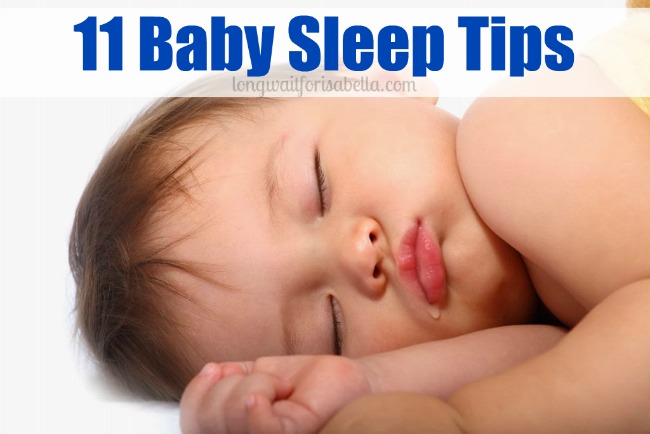 Regulate the Temperature in Baby's Room—Keep your baby's room warmer during the day and cooler at night. The optimal temperature for infant sleep is between 65 and 70 degrees Fahrenheit.
Install Dimmers on Bedroom and Nursery Lights—Lighting is a key way to regulate babies' circadian rhythm, which is the body's internal clock. Purchase dimmer units at your local hardware store.
Practice Baby Massage Before Naps & Bedtime—Newborns who receive a relaxing massage before naps and bedtime fell asleep faster and slept more soundly than those who didn't have one. Simply give your child a 15-minute massage using slow strokes and moderate pressure with a massage oil made for babies.
Smaller is Sometimes Better—Newborns tend to prefer a smaller space to sleep such as a bassinet or Moses basket versus a crib. Babies feel safer and more protected.
Know Your Baby's Sleep Signals—Although all babies are different, many show similar signs when tired and ready for sleep such as rubbing eyes, tugging on ears, and acting fussier than usual. At this point, try putting your baby down. If you wait longer than that to put your baby down, he may be overtired and have trouble falling asleep.
Naptime–You will get to know your baby's nap schedule and how it affects his sleep at night.  Some babies sleep best at night when they have had several good naps throughout the day.  Others need less nap time in order to have a solid night's sleep.  Give it a little time and take note of your baby's habits.
Swaddle Your Baby—Babies like swaddling because it mimics the feeling of the womb. Swaddling helps infants sleep longer and reduces spontaneous arousal. It also reduces crying among irritable infants and lowers the risk of SIDS (Sudden Infant Death Syndrome)
​Bedtime Routine–Babies thrive on routines, so create a specific routine as early as you can and stick to it.  This routine may include a nightly bath, singing a song, reading a story together, an official clothing change into pajamas, and saying "goodnight" to stuffed animals.
Nighttime Feedings–When you are up with your baby for late night feedings, try and keep him in "sleep mode," meaning keep him swaddled, keep lights dimmed and it's not absolutely necessary to change a diaper unless you can feel that it's really wet. This will make the return to sleep much easier.
Awake but Tired—It's important to put your baby down when they are still slightly awake or just ready to doze off rather than when they are sound asleep. You're setting your child up for better sleeping habits for years to come. They need to learn early on that they can do this without you. This teaches self-soothing and they learn the ability to settle in on their own (this does not mean leaving them screaming or in need), but there's no need to rush to the nursery for every movement or sound.
There's No One Perfect Way—Although the tips listed above are helpful and can help create good habits, there's no one perfect way. You have to do what's best for your family. Don't beat yourself up if you need to bring the baby into your room so you can get some sleep too.
We made a lot of mistakes with our Princess and we paid the price. She was not a good sleeper and still has her moments of difficulty. So we are happy that our Little Man is sleeping well in his co-sleeper next to mommy.
What tips do you have on how to get your child to sleep well?
Thank you Ollie World for these great sleep tips.